Exactly How Small Can Small Toilets Be?
Small bathroom is always a pain to work on. Especially when you are choosing the right size toilet to fit in. Ask any bathroom designer.
Unless you know where to look, and a clear idea of what you want, it can really frustrate the hell out of you. What's worst is getting the wrong size toilet that looks awkward in your mini bathroom, and you may also be breaching the law.
But physics being physics. There is a limit to how small a porcelain commode can be. If that limit is reached, you just need more space. Period.
Take Me Straight to the Smallest Tank and Bowl Toilet Review
Have You Exhausted All Options?
If you are only interested in the smallest toilets in the market place, that pretty much sums up your problem.
You have an extremely small space for a toilet.
But sometimes it's just how you plan the layout of the bathroom. And the main thing, of course, is in getting the right size fixtures. But let's not get into the design detail, which is not the main focus here.
In this article, we are going to explore what's the smallest gravity flush toilets in the market place. And what alternatives are at hand to save those precious inches of your bathroom real estate.
So let's take a step back and look at what are the options. And hopefully, you can take away a solution or found the right size toilet for your prized bathroom.
You will soon find out:
So. Ready to explore? Let's begin.
Do You Have The Space Even For Small Toilets?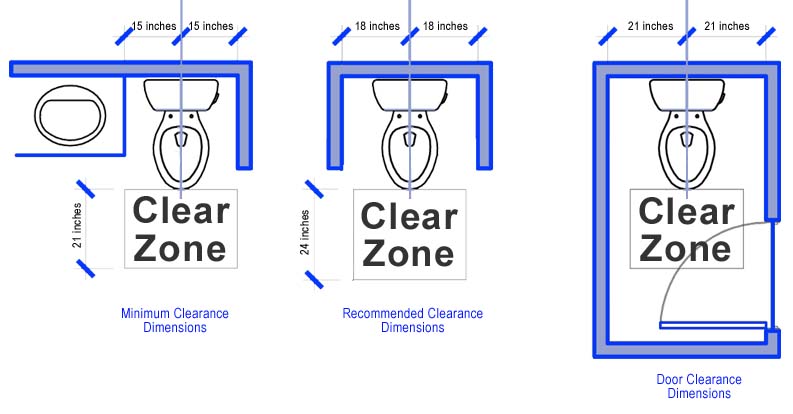 You may skip to the next section if you are familiar with the building code and the minimum space rule.
Regardless of the toilet size, you need space to install it. And talking about that, there are regulations about how much space you need for a toilet.
The first step you should take is to find that space. The area in your bathroom where you intend to install the water closet. Or it can be a small area in the house you plan to convert it into a restroom or powder room. Whatever.
So first thing first, get to the local building code in your area. Find out what is the least acceptable space area you need. If you are hiring a plumber to do your plumbing, he should be able to advise you on the minimum space rule.
This minimum space requirement is a crucial step to take. This is to make sure you have the space that is safe and comfortable when using the facility and you are not running against the law.
As a quick guide, you may want a space area of:
Left to Right Distance = 30 inches minimum
Front to Back Distance = Total Length of Toilet + 21 inches minimum
That should set you on the right track to meet the minimum space rule. However, please confirm with the local building code to make sure you comply 100%. Since not all local codes adopt the same minimum.
The Dimension That Set You Off Looking For The Smallest Toilet
In most cases, the width and height are not much of an issue. However, if you have a width less than 30 inches, you better scrap the idea of having a toilet in that space. Already the minimum 30 inches width is rather cramped. Just can't imagine how you are going to do your business in an area narrower than that.
Any narrower, you will be looking at the squat toilet. But that's not practical and you will have a hard time with the regulation and getting it installed.
So that leaves us with the length. And that's precisely why you are here.
You've got a space issue, lengthwise (front to back distance). There isn't enough clearance of 21 inches at the front. So to comply with the rule, you will need a shallow back to wall toilet or simply a short toilet. That's the best thing to do first before resorting to a remodel.
However, one fact you need to bear in mind. The shorter the length you need, the more expensive the toilet gets. But that's true to some extent. It'll depend on how many more inches you need to save. Fear not, competition is good at keeping prices affordable.
If you just needed an inch or two to save the day, you are lucky. That's because you can opt for a round bowl model, which typically is about 2 inches shorter than the elongated ones.
But if you needed a little more, say 3 to 4 inches, there's still hope without bleeding your wallet too much. And anything more than that, you've got to make sure you have enough in the bank for possibly a remodel.
Now let's explore the least wallet-bleeding option first, in the next section.
Compact Toilets From The Top 3 Toilet Manufacturers
In this section, you will see the various short length toilet models from TOTO, American Standard, and KOHLER.
But before you start crunching the numbers, here's how American Standard measures its toilet length differently from the rest.
Notice the length is measured from the wall to the front tip of the bowl. The overall length includes the clearance gap between the wall and the back of the tank. That's how American Standard measures its toilet length. So you will need to minus away the clearance distance to get the actual length of the throne.
So here's a compact toilets comparison for your easy reference. And yes, the clearance gap for all American Standard models have been removed. Please also note that any length that is 28 inches or more will not be on the list. And more importantly, only those with decent reviews get onto the table.
Toilet Length Comparison
Wait. Hang on!
What's that last item in the table? What's Galba? Where is it from? Who is selling it? And How much is it? You asked.
If this is the year 2013, these are valid questions people asked. But now it's probably one of the best selling compact toilets on Amazon. And possibly the smallest floor mount gravity-flush crapper in the United States.
Is this the first time you heard about it? Maybe you have heard it before, but probably by another name. Some folks call it the 24-inch toilet. Anyway, here's a review that answers all the questions you may have about this Galba toilet.
Tiny Little Galba Toilet Review
Updated information on Galba (Including the Galba vs Horow Comparison) and reviews of 5 more short length (24-inch) toilets can be found in
this post
.
Don't be fooled by its size. This compact flush toilet has every feature of a regular size commode. And even put some to shame.
Let's begin with its physical appearance.
It's not hard to gather from the image above that little Galba is of a one-piece skirted design. Isn't it sleek and pretty streamlined from the look of it? Now that also tells you a lot about how much work you need to keep its exterior clean. It's a breeze!
With all that flat surfaces and a quick release detachable seat, cleaning is easy with a few wipes. You will love it.
Now let's explore its features and performance.
G-Max Flushing System… Is That TOTO?
Now that certainly sounds like TOTO. But they are not the same flushing system. Anyway, there is little to no information about how the flushing works. Well, maybe nobody cares because it works like a charm. And it really does.
Nonetheless, it's a siphonic flush toilet that is comparable to the likes of TOTO and American Standard. And with a 3-inch flush valve diameter, you can expect the flush to be strong. This is an inch bigger than the 2-inch industry norm, which is desirable.
What about bowl cleansing?
This Galba has a Self-Cleaning glazed surface which helps in preventing skid marks from forming and assist in a cleaner flush. According to the maker, the bowl surface will not scratch, rust, fade, or discolor.
Oh really?
Well, nothing bad was heard from the reviews on Amazon, so it must be that good. No complaint is always a good thing, especially on Amazon.
And in case you haven't visited Amazon yet, little Galba scores an impressive 4.8 stars out of 5 at the time this article was written. Of the total 51 reviews, none are from the 1, 2 and 3 stars rating, which is rare with Amazon reviews.
So despite the lack of design information from the maker, most users are happy with this Galba small toilet. That speaks a lot about its build quality and performance.
As long as it clears your wastes well, who cares how it works. Right?
Decent Dual Flush Efficiency On A Small Crapper
Just when you thought you have found the holy grail of smallest toilet hunters, the dual flush feature feels like Christmas on steroid.
There are 2 flush buttons on top of the tank cover. One is for the 1.6 gpf full flush and the other for 0.8 gpf half flush. And both are adjustable with the floater and flush cistern, respectively.
So if you think you don't need the full 1.6 gallons, you can adjust it lower. That will save you more water and money, of course.
Cool right?
If that's how you feel, Congratulations! Your quest for the smallest toilets is finally over. And the best thing is you are not bleeding your wallet too much to solve a teething space problem.
Thanks, Bill.
Free Toilet Seat And Compatible Bidet Option
This smart-looking Galba comes with a soft closing seat. So that saves you the trouble of having to buy one separately.
But what if you need a replacement seat later? The bowl shape of this Galba toilet doesn't look like an elongated bowl at all. And since the length is short (shortest), surely a standard size seat will not fit.
So, can a standard elongated seat be used as a replacement?
That's a good question Bill. And this is the answer from Luxury Modern Home (the original seller),
"Yes, it's elongated as stated by the supplier* . But I believe any standard seat (not elongated) should fit well on it." – Luxury Modern Home
There you have it. But if you don't feel assuring enough from the seller's answer, you may want to contact them directly. They are quite responsive in answering customer queries. So no worries, you are in good hands, always.
OK, but I'd prefer to have a bidet seat instead. Does Galba has a bidet or any compatible models I can buy?
No, Galba doesn't have a bidet seat to its name. But there is no lack of alternatives if you intend to have one installed on this compact toilet. (Learn more here ► Bidet Toilet Seats – A Comprehensive & Quick Buying Guide)
The 2 bolts that secure the seat is at 5.75″ apart. As long as the bidet seat has the same bolt distance is a good match for Galba. Or if the bidet has an adjustable bolt distance, say 5.5″ +/- 0.25″ will fit as well.
As recommended by Luxury Modern Home, the Brondell Swash 900 with adjustable bolt distance will be good to go. But you can check for more options as long as the bolt distance can match 5.75″ no less.
*Presumably the OEM who makes the Galba toilet for Luxury Modern Home.
The Near Comfort Height Sitting Level
The next feature is the bowl height. There are clarifications sought on Amazon about whether the Galba is a comfort height toilet.
The short answer is no. But almost.
The bowl height without the seat is 15.5″, from the floor to the top of the bowl rim. So when you put on the seat, it will add up to 16.5″. That's half an inch short of being a comfort height, or more precisely, an ADA compliant toilet.
Comfort height or ADA height begins at 17″ right up to 19″, measured from the floor to the top of the toilet seat.
Some folks don't prefer the comfort height, but some do. It's kind of a meet-in-the-middle for this little Galba. So is this smart design or an excellent job at consumer research? You decide.
But seriously, with just half an inch short, can you really feel the difference?
What About The Water Surface Area?
This Galba toilet has a water surface area of 6″ x 4″ (150mm x 100mm). And the depth, from the bowl outlet to the water surface is 5.5″ (140mm).
Pretty close to TOTO Aquia series, which is at 6″ x 5.5″.
Not a great surface area size, but coming from a tiny toilet, what more can you ask for. Any larger, you will be pooping underwater.
Dimension, Dimension, Bad Documentation, Dimensions

The right image shows the dimensions of Galba. Yea it's kinda crappy. It was downloaded from LMH site and no modifications were made to it.
But it does show the correct dimensions, though.
Luxury Modern Home must be making heaps that they have no time to create proper product documentation. You probably would have seen the product details on their site. Do you feel like it was written by a non-English speaking person from somewhere in China? There are spelling mistakes, misleading and conflicting info. Fortunately, these shortcomings have no bearing on little Galba's performance.
And speaking of China, besides the material that Galba is made of, it is indeed made in China. So are some of those from American Standard and KOHLER.
Luckily the customer support at Luxury Modern Home is commendable. Which makes up for its poor documentation standard.
So what would you rather have?
A third world documentation standard with top-notch support. Or a world-class technical write-up with non-existent customer service?
You want both, of course – An excellent product documentation and with immaculate support.
So make sure you comment this on Amazon reviews when you decide to go for it. There's a 99.9% chance that LMH will respond to you.
Installing The Galba Is Like A Walk In The Park
Says who?
Whoever says that he's got to be a plumber.
And that's because little Galba has a standard 12″ rough-in and standard sized flange. Now, if you have to ask what rough-in means, you better get a plumber to do the installation for you. No offense here, because every plumber in America knows what a standard rough-in is like.
But relax. It won't take the whole day for installation. Your Galba will be ready to take the first flush even before you are done with your laundry.
Unless you are a DIYer and enjoy installing toilets (that'll be weird), yea go ahead and do it yourself. You shouldn't take more than an hour to complete the job.
Yes. Installing little Galba is that easy. Again, Congratulations! Your wallet is safe now.
Galba Features & Specifications Overview
Features
G-Max flushing system
Dual Flush 1.6 gpf (6 lpf) & 0.8 gpf (3 lpf)
One-piece design
Self-cleaning glazed surface
Fully glazed trapway
Skirted design for easy cleaning
Shortest length (24.5″)
ELONGATED bowl (sort of) and seat
Slow closing designer seat included
MaP rating: >=300
cUPC approved
Surpasses National GB standard cleaning water test
One year manufacturer parts warranty
Specifications
Water consumption: 1.6 gpf (6 lpf) & 0.8 gpf (3 lpf)
Trapway type: S-trap
Water Surface 6″ x 4″ (and 5.5″ high)
Trap Diameter: 2″
Seat height: Top of seat is 16.5″ from the floor
12″ rough-in
Material: Vitreous china
Weight: 90lbs
Dimensions: 24.5″ L x 14″ W x 27″ H
Is The Price Right For Galba?
So, do you have a good impression about little Galba, the popular small gravity flush toilet in America?
Is it a good fit for your small bathroom? Do you think it'll solve your toilet space problem?
What about the features, do you like what you read so far?
When your answers are YES, here's how much it costs.
You find Galba expensive?
In fact, all one-piece toilet cost more than the 2-piece models. Besides, this Galba is a concealed-trapway design, which is another factor for the higher price.
Unless Luxury Modern Home decides to make a 2-piece version of the Galba, this is the only one right now. But bear in mind, in a two-piece design, the bowl must have additional support for the tank. And that will cause the overall length to be longer (probably by another 3 or 4 inches long). This is the main reason why Galba is made one-piece to be one of the smallest of all siphonic flush toilets.
Well then, what about the other compact toilets from TOTO, American Standard, and KOHLER? The 2-piece models should be able to meet your budget. And hopefully, they can also meet the minimum length space you need.
What Are The Other Options?
This may well be your last-ditch effort to circumvent your frustrating small bathroom space problem. If Galba is not tiny enough, you should abandon the idea of a floor mount gravity flush toilet.
Oh, wait. How about a toilet with 23 inches of front-to-back dimension?
Not small enough? But this is the smallest toilet you can get in the marketplace right now. No? Well, then you should really scrap the whole idea of having a floor-mounted water closet.
But there's still hope…
How does saving up to 9 inches of length space sound to you?
If that interest you, then you are looking at these 2 options:
Wall Hung toilet (read review here)
A compact macerating toilet (read review here)
OR, how about a corner toilet? They don't belong to the smallest toilets class, but they sure can be a way to make space when you need it the most.
---
You have reached the end of this smallest toilets overview (a.k.a. Galba Toilet Review). And hope you have found what you are looking for. Otherwise, you are most welcome to leave a comment about your thoughts below.
Thanks for reading.