6 Reasons This Saniflo Macerating Toilet Is Hot On Amazon
A Saniflo Macerating Toilet Review
Great Space Saving Saniflo Macerating Toilet For Above-Floor Plumbing
When you need a toilet to best use of a space (usually small) and need it fast, the macerating toilet is the answer. Also known as an upflush toilet, the Saniflo SANICOMPACT 48 has been the best selling macerating toilet in Amazon for these 6 reasons;
Build in macerator/pump. Looks exactly like an expensive tankless toilet.
Save space like a wall hung toilet. You save about 9 inches of space (front to back).
Dual Flush and save water.
Easy to install with no hacking of floors for drain pipes.
Quiet flush. No re-filling noise.
Best price and purchase guarantee on Amazon
In this Saniflo macerating toilet review you will find out the various features that set it apart from its competitions.
Size Like A Wall Hung But Looks Like A Tankless Toilet

Among the 5 reasons, the physical appearance and size of this SANICOMPACT 48 toilet tops it all.
Measuring only 21.5″ in length and 14.5″ wide, it only needs a small 30″ x 46″ space to meet the minimum space rule. The base is only 17.5″ in length, saving you about 10 inches of floor space compare to a normal compact toilet.
Even though it is floor mounted, its size is about that of a wall hung toilet. But it looks like the expensive tankless toilet only smaller, length wise.
The clean line, tankless design offers a sense of roominess in a small space. You will appreciate the design even more when you realize how easy it is to clean with the skirted sides.
The reason this Saniflo macerating toilet can be this small is due to its build-in macerator pump.
Features & Specifications Overview
Features
Self-contained macerating unit
Elongated bowl
Compact skirted design
Dual-Flush system
Free custom toilet seat
Tankless
Tall seat height
Maintenance free sealed motor
Sink drain connection
Bowl material: Vitreous china
Warranty: Two Year Limited Warranty
Specifications
1.28 GPF & 1.0 GPF (4.8 LPF & 3.8LPF)
Maximum vertical pumping 9ft (2.7m)
Maximum horizontal discharge 100ft (30m)
Electrical supply 110-115V 60Hz
Motor horse power 0.3HP
Discharge pipe diameter 1″
Maximum water temperature 95° F
Seat height approx. 17″
Net weight 67lbs
Dimensions: 21.5″ L x 14.5″ W x 18.5″ H
Compact And Powerful Macerator
Instead of the ugly external macerator pump box, the SANICOMPACT has it build into the bowl. So externally, it looks just like the regular toilet without the tank. Saves you the trouble of hacking walls just so you can hide away the external macerating unit.
Though small, the macerator unit of the SANICOMPACT still contains all the control components including the sealed pump motor. And the pump/macerator does not require any special maintenance when use according to its intended purpose.
The impeller has blades which not only induces water flow, it works like a blender knife that breaks up solid waste and toilet papers. This 2-in-1 design minimizes mechanical links and moving parts, it's well make to last.
Water Saving Dual Flush System
The SANICOMPACT 48 uses a lot less water than a regular toilet. Or rather, it has the same efficiency of a High Efficiency Toilet (HET).
Its dual flush function gives you the option of a 1.28 gpf (4.8 lpf) and 1 gpf (3.8 lpf). Just like any dual flush toilet, the full flush is for solid waste and the eco flush for liquid waste.
Though it is not WaterSense certified, it will save you water and money just like one.
How It Works
The flush starts with pressing the push-button switch which activates a timer and a solenoid valve. Then water flows to fill and wash the sides of the bowl through holes along the rim.
Next, the pump starts and water, waste and toilet paper get suck into the macerating unit. With a rotating speed of 3600rpm, solid waste and toilet papers are reduced to a fine slurry by the blade. And the pump clears everything out to the discharge line.
After about 10-15 seconds the motor stops and the bowl gets refill with fresh water. And the flush ends with the closing of the non-return valve once the motor stops.
The role of the non-return valve is to prevent waste from flowing back into the system.
An electronic circuit board controls the entire flushing process. Which include the opening and closing of the solenoid valves and timing of water flow.
The Toilet That Doesn't Require A Drain Pipe
Since the macerated waste is in fluid form, it can be pumped out like water in all directions. Hence you only need a 1 inch diameter PVC pipe to connect the elbow outlet to the soil-stack.
The flow rate allows the fluid waste to travel a vertical distance of up to 9 feet and 120 feet across. Which means you can install a half bathroom not more than 9 feet below the sewer line. Or, up to 120 feet away from a soil stack.
So if you intend to install a toilet at a location without a drain pipe, consider this SANICOMPACT 48 toilet. You save money and the mess of floor hacking just to lay a sewer pipe.
But that's not all.
You can even install a sink for hand washing. All you need is to connect the sink drain to the back of the toilet with the provided material and accessories. And the system will discharge grey water from the sink drain independently from the toilet operation.
Here's a video from Saniflo demonstrating how the SANICOMPACT works.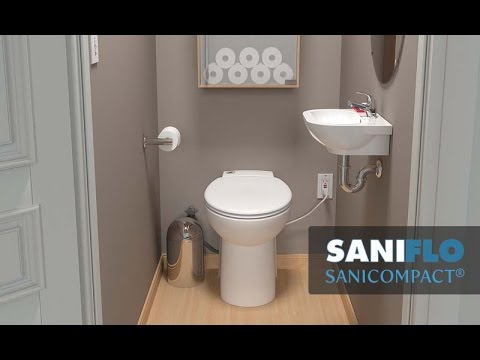 ---
It Doesn't Sound Like Your Typical Toilet
It's impossible to completely cut off sound from any flushing toilet. Whatever flushing system it may be. This Saniflo macerating toilet is no different.
Unless the toilet is a distance away, or you intend to sound proof it completely. There will be flushing noise, loud or otherwise is still audible from outside the bathroom.
But you will discover the flushing sound coming from this Saniflo upflush toilet is far from embarrassing or disturbing.
If you have guests visiting, they won't realize the sound they hear is coming from you flushing the toilet. They will only hear a faint motor running sound and probably a soft water-gushing sound in the pipe. Nothing loud or distracting you should worry about.
So that's quite discreet of a toilet flush.
How Easy Is The Installation?
Apart from plumbing, you need to provide an electrical outlet for this SANICOMPACT toilet. So the plumber that you hire must be able to take care of the electrical wiring part for you as well.
Unless you have the knowledge and skill in both, DIY is not an option.
Installing the toilet is easy, but the real deal is connecting the discharge pipe to the soil-stack. That requires good knowledge of the plumbing code and best practices. If you screwed that up, there will be leaks and a mess imaginable to deal with later. And, you may be running against the law if a local plumbing inspector smells a rat.
Besides, the electrical installation part also has a regulation you need to abide. It's not just by extending from a nearby outlet into the toilet location. There are real safety concerns if not done right.
So for most people, the best option is to engage a plumbing company to take care of the installation.
Maintenance And Care
Since the motor of this Saniflo macerating toilet is sealed, do I still need to carry out any maintenance?
Yes maintenance is a must. And you should do it at least once every 3 to 6 months. But you don't have to strip down the macerating unit and clean every part inside. You will be surprised how easy it is and it takes less than a minute each time.
All you need is the Saniflo 052 Descaler.
In hard water areas, coats of lime-scale will form inside of every plumbing appliance and facility. A good example is the kettle. Just look inside of your kettle and you are sure to see some.
Unless you do something to prevent the lime-scale build up in the macerator, it will fail to work in no time. So by using the Saniflo 052 Descaler on a regular basis, it will keep the unit running smoothly. It helps to prolong the life of the macerator and you will not experience any clogs.
But what if the water is soft, do I still need the Descaler?
How Often Do You Need To Pour In The Descaler?
Water will always contain some minerals, it's just a matter of how much there are in it. So if the water is soft, use the Descaler at an interval of 3 to 6 months.
Some folks will wait till the macerating unit to act up before using the descaler. Like the motor runs non-stop and wouldn't shut off, that's a sign of scale build-up.
But don't do that. It will shorten the motor life span or the printed circuit board might get burn off.
The Saniflo 052 Descaler is a good product and has received very good reviews at Amazon. It is specially made to use with all Saniflo Macerators and doesn't harm the septic system.
So keep your SANICOMPACT 48 toilet running smoothly at all time with a regular treatment of the Saniflo 052 Descaler. You will keep the plumbers away.
What Are The Disadvantages?
When It Happens You Will Appreciate Gravity More
Like all macerating toilets, this Saniflo SANICOMPACT operates on electricity. A 120V 60Hz supply is needed to run the motor and the controls.
This means if there is a power failure, you can't use the toilet. That's the flip side of up-flush toilets, not just Saniflo.
Is Installation Really That Easy?
Yeah sure, when you don't have to deal with the soil-stack connection and running of cables for an electrical outlet.
Installation wise is not as easy as it seems. You need professional help to set it all up. But it won't be as messy as the need to hack concrete to lay drain pipes.
But of course, if you were to compare with other macerating toilet models, this SANICOMPACT 48 is the easiest to install.
How Long Can The Motor Last?
The average life expectancy of an electric motor is about 15 years. That is when you use it with proper maintenance and care. So if you could keep the 0.3 HP motor spinning for more than 10 years, consider it a great ROI.
What Happen When It Clogs?
Definitely not for rough use. So be careful with what you flush down this Saniflo macerating toilet. Because once it plugs, no plunger is capable of unclogging the pipes and you can't even auger it. You will need to call the plumber and prepare to burn some cash.
Why Do You Need This Saniflo SANICOMPACT 48 Toilet?
Every home is equipped with a drainage system for the disposal of waste and greywater. The system is a network of drain pipes that runs through the kitchen and bathrooms and ends at the septic tank.
If you intend to install a toilet at a location where the pipes aren't there, then a macerating toilet is a great solution. Of course, you can always extend the network by connecting new sewer pipes to the system. But that's provided you have the means to do so.
Assuming you don't have a generous budget to extend the drainage system, and you need a toilet installed within a very short period. Go for a macerator definitely.
Here are some typical locations in the house you can convert to a toilet with this SANICOMPACT 48 toilet.
An under-use store room.
Under the stairway.
In a garage.
In the basement that is less than 9 feet below the sewer line.
The empty space at the end of an upstairs corridor.
A guest room with no toilet.
A little corner at the backyard.
Whatever locations you can think of, this Saniflo macerating toilet can fulfill your needs. It's not call a 'toilet everywhere' for nothing.
Where's The Best Place To Buy This Saniflo Macerating Toilet
Saniflo SANICOMPACT 48 toilet is the best macerating toilet in the market place. There's no doubt about it. This is evident from the positive reviews seen in all the online megastores.
You will learn from the users' experience of why this SANICOMPACT toilet outperforms the other brands and models.
And the name 'Saniflo' seems synonymous with macerating toilets. If you type 'macerating toilets' or 'upflush toilets' on the search engine, you will see why.
Now that leads us to understand why people are buying this Saniflo SANICOMPACT 48 toilet online. For 3 reasons:
Saniflo macerating toilet has the highest mention-rate among all the influencers in the industry.
Great reviews with most users happy with the performance and design of this Saniflo macerating toilet model.
Due to intense competition, online prices are always the lowest compare to a local supply store. And usually it comes with free shipping.
So where's the best place to buy this Saniflo SANICOMPACT 48 toilet?
Amazon of course. And also for 2 very good reasons:
A to Z Guarantee which you are guaranteed of the condition of the item you buy and its timely delivery.
Amazon always offers the most competitive pricing.
---
So there you have it. By now you should have a good understanding of why this Saniflo macerating toilet is a good buy if you are on the fence about it.
If you have further questions, or have been using this SANICOMPACT 48 toilet, leave a comment below and let's discuss.