TOTO Aquia Dual Flush Elongated 2-Piece Toilet Review
TOTO Aquia Dual Flush Elongated 2-Piece Toilet Review
TOTO's Beautiful Two-Piece Aquia That's Always been Mistaken as a One-Piece Toilet
This TOTO Aquia Dual Flush Elongated 2-Piece Toilet comes in two version – 10″ rough-in and 12″ rough-in. This review is about the 10″ rough-in model. The 12″ model's part number is CST412MF#01, without the ".10″ at the end. So be mindful when ordering to save you some trouble of returning the goods for an exchange later. (More about the confusion on the part number later)
The rest of the features and dimensions are similar, so you can treat this review as the 12" rough-in model as well.
What's So Great About This TOTO CST412MF.10#01 Aquia Dual Flush Toilet

If you have done some research on this TOTO Aquia toilet model, and planned to install it yourself, you are probably confused. But for now let's focus on the features and talk about the confusing part further down.
This is a compact toilet, perfect for small bathrooms with a width limitation. The bowl width of this little potty is only a sleek 14.25″ which you can place it on a 32″ wide space comfortably. Though not really in the best toilets class, its skirted sides and the slim footprint makes it an elegant piece of fixture in the bathroom. The toilet bowl and the tank combination are well fitted that make the entire assembly looks like a 1-piece model. When fitted with a toilet seat, the TOTO Aquia Dual Flush toilet posed a height of about 17.125″, well in the range of comfort height standard. Cleaning is easy as with most skirted design toilets. This TOTO CST412MF.10#01 is no exception.
The trapway size is a good 2.125″ in diameter, which equals some regular size toilets. When well maintain and with proper use, clogging is rare. This is definitely a water saving toilet with a dual flushing system, rated at 1.6GPF (6.0LPF) full flush and 0.9GPF (3.4LPF) for a light flush. According to MaP rating, the TOTO CST412MF is listed as 800. It means this Aquia model is capable of removing 800 grams of waste in a single flush. Your typical load is probably less than 400 grams, so that's more than enough flushing power for a small tank toilet. Besides the powerful flush the Aquia Dual Flush toilet is also quiet, considering it uses the traditional gravity flushing method.
Features & Specifications At A Glance
Features
Dual-Max® flushing system, low consumption (1.6GPF/6.0LPF & 0.9GPF/3.4LPF)
Elongated bowl for comfortable use
Universal Height
Seamlessly coupled elongated front bowl and tank set
Chrome push-button
10″ rough-in
WaterSense mark
Specifications
Min. Water Pressure: 8 psi (flowing)
Water Surface: 6″ x 41⁄2"
Trap Diameter: 21⁄8"
Trap Seal: 21⁄8"
Warranty: One Year Limited Warranty
Material: Vitreous china
Weight: 108lbs (Tank & Bowl)
Dimensions: 271⁄2" L x 153⁄8" W x 311⁄4" H
The Rough-in Confusion
You have read in the beginning about the different part number for this TOTO Aquia Dual Flush toilet between the 10″ & 12″ rough-in. If you follow TOTO's official product page, the respective rough-in model has its own part number with a slight variation at the end.
The 10″ model part number should read as "CST412MF.10#01", which is similar to Amazon's "Toto CST412MF.10No.01". But the 12″ model part number shown on TOTO's product page is "CST412MF#01" whereas in Amazon it is displayed as "TOTO CST412MF.01".
So what's the big deal about it you may ask.
The only concern you should have is the rough-in size that you wanted. There are cases where customers placed an order without paying much attention to the difference in the part number, and the wrong model was shipped. Obviously the whole buying experience was screwed. Imagine you have everything prepared and you have removed the old toilet, only to realize you've got a wrong rough-in size. Messy! It's an easy overlook as the image of the 2 models looks exactly the same on catalogue or on Amazon, and usually people only looked at the base part number which is CST412MF.
For clarity sake, here's the official part numbers for TOTO Aquia Dual Flush Elongated Two-Piece Toilet:
10″ rough-in – CST412MF.10#01
12″ rough-in – CST412MF#01
If you intend to order from Amazon, here's the respective product page:
The best way to avoid getting the wrong model is to message or add a note to the seller and state clearly the rough-in size that you want. You can message the seller in Amazon about your order after you have checked out. But still there's the risk of error along the way even though you have taken measure to prevent it. So make sure you check the toilet as soon as it arrived.
If you are buying a toilet to replace an old one, NEVER EVER get the rough-in size wrong. This is the single most important detail of a toilet you shouldn't miss.
Should I Hire a Plumber Or Not?
There are mix reactions as to how easy it is to install this Dual Flush TOTO Toilet. When you read the reviews over at Amazon, you are most likely confused and wonder if you should hire a plumber to install it, or do it yourself.
But what is clear is that, TOTO provides an installation guide which some users claimed to be clear and concise and have no problem installing the toilet by themselves. In fact, together with the guide there is also a template provided to help you align the bolting position as well as the flange location. So given that, you may think a plumber shouldn't have any problem installing it. But then, there are a few users who expressed their dissatisfaction that even their plumber struggled on the installation.
Who should you listen to? Answer: NONE.
Without looking at the installation manual first, it's kind of hard to judge for yourself. So here's the installation manual for this TOTO CST412MF.10#01 Aquia Dual Flush toilet;
Download TOTO CST412MF Installation Manual
If you find it confusing, then go ahead and hire a plumber to do the job for you. But honestly, the manual is indeed very detail and clear with lots of illustrative diagrams to follow on. If you are comfortable with the manual, then you can probably guess why those plumbers are struggling with the installation. It is not a typical toilet installation but not too far from it. In fact there are the additional steps that actually help in aligning the toilet to the flange easier and on the dot. So chances are, those plumbers probably did not go through the manual and try to do the installation the way they are used to.
So, if you decided to hire a plumber to do the installation for you, just make sure you communicate to them the type of toilet you have bought, send them the installation manual before they start anything. Once they have a good grasp of how to install this TOTO Aquia Dual Flush Elongated 2-Piece toilet, you can be sure the whole installation will be a snap.
Once successfully installed, you will love the look and the way it flushes your used meals away.
Here's a video by This Old House showing how 'difficult' it is to install the TOTO Aquia Dual Flush Toilet.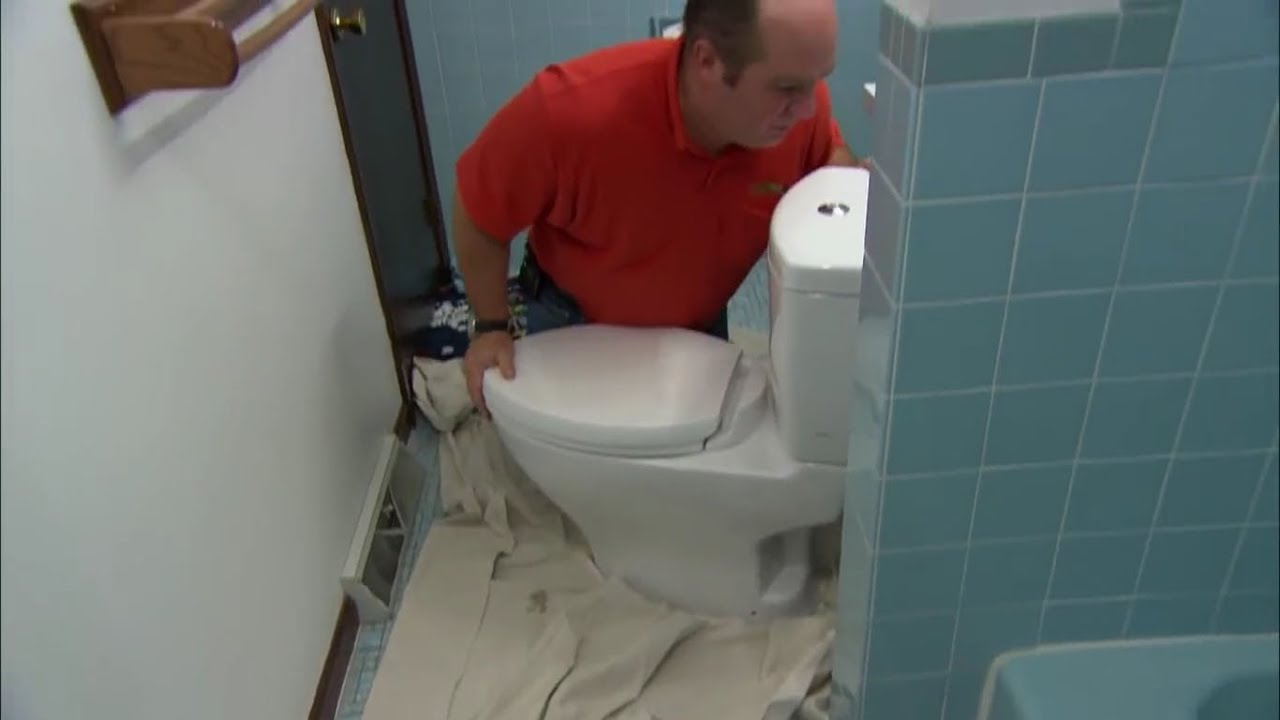 ---
What Are The Drawbacks Of TOTO CST412MF.10#01 Aquia Dual Flush Toilet
TOTO is a market leader in bathroom fixtures and accessories. They are known to be years ahead of its competition in toilet design, and own some of the best toilet models in its range of well reviewed toilet line. But that doesn't mean every TOTO toilet is well received by consumers.
Among the range of TOTO toilets, the TOTO CST412MF small toilets have its fair share of good as well as bad reviews. Let's look at some of the drawbacks this TOTO Aquia Dual Flush toilet has on its score card.
Small Bowl Size
The size is intentionally made small for obvious reason – it is meant for small bathrooms, it's a space saving toilet. If you or a family member who has a large build, you will not like the size of it. But if your bathroom is too small to accomodate a regular size toilet, seriously there isn't much you can do about it.
Small Water Surface Area
The water surface area is proportional to the bowl size. The smaller the toilet bowl size gets, the smaller is the water surface area. The water surface area of this TOTO Aquia toilet is 6″ x 41⁄4" which is almost half of that of a regular size elongated toilet. The issue with a small water surface area is bowl-streaking will happen more often. As the water volume in the bowl is not sufficient to allow your turds to immerse fully, those out of the water will stick to the bowl surface can cause skid mark to form. Definitely not a pretty sight on a white toilet. You will need a toilet brush nearby.
Difficult To Install The Toilet Seat
Installing the toilet seat for this compact TOTO elongated toilet is quite challenging. If you are leaving the toilet seat to be installed last, after the bowl and tank, you will regret it. It looks easy on the installation manual, but several users have complained about the little leeway to get your hand through to the locking nuts for tightening the bolts on the seat. So make sure to install the seat first before installing the bowl, or else you will need some help if you don't have small hands and nimble fingers.
Perhaps that's a little sacrifice for looks as it is a skirted design. So take good care of the toilet seat for as long as you can. You can probably imagine how a replacement seat can be installed….without removing the toilet?
Toilet Seat Not Included
Don't you hate it when the most basic requirement of a toilet is not included in your purchase? Though the argument may have been that you have the freedom to buy whatever toilet seats you fancy, not necessary from TOTO. But what's so detrimental (on the profit) that it has to be excluded.
What if you bought a wrong size toilet seat due to carelessness. And the fact that the toilet is shown with a seat on Amazon and many other online stores, you can easily be misled to think it's included. Though it's not a "life threatening" issue, the inconvenience caused is definitely not a show of great customer service.
Pros & Cons Overview
TOTO CST412MF.10#01 Aquia Dual Flush Elongated Two-Piece Toilet
| | Pros | Cons |
| --- | --- | --- |
| Bowl Width 14.25″ | Good for narrow space for a toilet. Less squeezy on the sides. | Not comfortable for large build people. |
| Flushing Buttons | Located on top of tank – space saving and independent of left/right lever orientation. | – |
| Flushing Mechanism | Dual Flush – Option for light & full flush. Saves water & powerful. | – |
| Skirted Design | Good aesthetic. Easy to clean. | – |
| 2-piece Toilet | Seamlessly coupled tank and bowl minimizes mold growth, bacteria growth and dirt accumulation at the seam. Lower cost on replacement of tank or toilet bowl. | Mold, bacteria growth, dirt accumulation at the seam if not well maintain. |
| Elongated Bowl | Comfortable to use | – |
| Water Surface Area | – | Small 6″ x 41/4" size causes bowl streaking and skid marks. |
| Toilet Seat | – | Not included and difficult to install. |
| Seat Height | Comfortable level – easy to get up and seated | – |
| WaterSense Certified | Yes | – |
| MaP Rating | 800 – Capable of removing 800 grams of waste in a single flush. | – |
| Price | – | High |
Customer Reviews
At the time this TOTO Aquia review was written, there are less than 50 user reviews on Amazon for the 10″ rough-in model, and a little over 55 reviews for the 12″ rough-in. Those reviews are mostly positive with about 50% are from verified buyers. Though the number of reviews are considerably low, the positive reviews by those verified buyers are an endorsement that the product does offer value and good user experience. Though not the best of compact toilets in its class, this TOTO Aquia and the Aquia II dual flush model are among the popular small toilets to consider, whether you are remodeling your small bathroom or for replacement.
What is your experience with this TOTO Aquia Dual Flush 10″ rough-in (or 12″) 2-piece toilet? And what star rating will you give to it?
Here's the latest Customer Reviews for the 10″ rough-in and 12″ rough-in TOTO Aquia Dual Flush Elongated toilet.
Where to buy TOTO CST412MF.10#01 Toilet
This TOTO CST412MF Aquia Dual Flush 2-piece space saving toilet is quite a sought-after model that you can easily buy from hardware or DIY stores, local plumbers and online megastores like Walmart, Lowes, Home Depot and Amazon.
Enjoy Amazon's A-Z Guarantee Protection
Buy with confidence anytime you make a purchase on the Amazon.com website or use Amazon Payments. Your purchases are guaranteed by Amazon from third-party sellers on the condition of the item you buy and its timely delivery. Learn more
---
Alternative Toilet Models Comparison
| | TOTO CST412MF Aquia Dual Flush Elongated Two-Piece Toilet | American Standard 2794.204.020 Studio Dual Flush Right Height Elongated Toilet | KOHLER K-3723-0 Persuade Curv Comfort Height Two-Piece Elongated Toilet |
| --- | --- | --- | --- |
| Rough-In (inches) | 10″ or 12″ | 12″ | 12″ |
| Bowl Shape | Elongated | Elongated | Elongated |
| 1- or 2-piece | 2-piece | 2-piece | 2-piece |
| Flush | Dual Flush | Dual Flush | Dual Flush |
| Full/Partial Flush | 1.6 gpf/0.9 gpf | 1.6 gpf/1.1 gpf | 1.6 gpf/1.0 gpf |
| Water Surface Area | 6″ x 4.5″ | 9″ x 8″ | 4.5″ x 5.75″ |
| EPA WaterSense | Yes | Yes (Pending) | Yes |
| MaP Rating | 800 | 1000 | 600 |
| Comfort Height | Yes | Yes | Yes |
| Toilet Seat | Not provided | Provided | Not provided |
| Dimension | 27.625″ (L) x 15.375″ (W) x 31.375″ (H) | 29.125″ (L) x 15.75″ (W) x 30.875″ (H) | 28.625″ (L) x 14.19″ (W) x 32.5″ (H) |
| Price | | | |
Note: Price of TOTO CST412MF is for the 12″ rough-in Model.
You have reached the end of TOTO CST412MF.10#01 Aquia Dual Flush Toilet Review. Do you find this review helpful? It'll be great to hear from you. Just leave your comments below.