American Standard H2Option – Best Value Workhorse Toilet
Is The H2Option An Underrated Toilet?
It used to be capable of moving 1000 grams of waste (according to MaP). But now, the MaP rating of this H2Option is at the bottom of the 'Highly Recommended' category. The question is, with a MaP 600 rating now, how is it faring in the marketplace? But more importantly, are you convinced it will still be as good as the previous generation of the H2option toilets?
Since American Standard has retired all its 1.6 GPF versions, how are the new HET versions regaining their past glory? How is the flushing power of the 1.28 GPF models compare to the now-defunct version? What are the changes made to its design? Can you accept a lower MaP rating (aka less powerful flush) albeit with the potential of saving you money every month? Can you still buy the old version?
Let's attempt to answer all the questions. One at a time.
Has MaP Changed It's Rating System?
The rating system is the same since version 5 of the MaP Testing Protocol (When H2Option was rated MaP 1000). Though the current version 7 is a little stringent on the accuracy of the flush volume, by and large, the testing procedure and requirement are the same.
The difference in rating is due to the shift from the standard MaP rating to the MaP Premium rating. However, not all toilets are eligible to carry the MaP PREMIUM rating unless they meet the following requirements.
Tank-type toilet models may be eligible to carry the MaP PREMIUM rating if:

They are certified to the U.S. EPA "WaterSense Specification for Tank-Type Toilets", and
They achieve a Maximum Performance (MaP) score of at least 600g, and
The rated flush volume of single-flush toilet models does not exceed 4.0 liters (1.1 gallons), and
The rated 'full' flush volume of dual-flush toilet models does not exceed 4.8 liters (1.28 gallons), and
The effective flush volume of dual-flush models does not exceed 4.0 liters (1.1 gallons) which is the average of one full flush and one reduced flush.

"MaP Testing Protocol, Version 7 – January 2018"
As you can see, the MaP Premium has a stricter requirement, and it is meant for all WaterSense certified toilets.
So does that mean the current range of H2Option toilets is not as powerful as the 1.6 GPF models?
Apparently, that seems to be the case. Unless there are improvements made to the toilet design, you can't expect a significant lower flush volume to still move 1000 grams of material.
Are there any design changes?
The Old And New H2Option Toilets
There are no apparent differences in the physical dimension between the old and new versions of the H2Option toilets. The trapway is still the same 2 inches in size and similar in shape. And assuming they are also using the same flush valves, despite the tank models are different.
Or maybe there are indeed some differences; then you will have to go to their "Ask an Expert" to find out. And you are likely to get no more than a "Yes there are differences." reply. They hardly go beyond three lines in their tech support response. 😅
Jokes aside, this page on their website does say the flush valve is 'For use with American Standard H2Option toilet without an in-tank liner'. Presumably applies to all (old and new) H2Option toilets as shown in the screenshot (taken in October 2018) below. The 2886.216 model is one of the discontinued 1.6 GPF models.
The image below shows the physical dimension between the old and current H2Option toilets.
Click on image to enlarge (opens in new tab/window).
Similar comparison checks on the other models show the same conclusion. If there is any difference at all, it has to be the overall height. The current H2Option toilets are taller by an insignificant 1/2″ that has zero impact on flushing performance.
So the conclusion you can draw is that there are basically no changes made to the toilet design. It is the same old H2Option toilet loved by many but only set to flush at lower capacity now, that's all.
Is Flush Power & Flush Efficiency The Same Thing?
A toilet can have the largest flush valve opening for maximum water flow speed to give you the strongest flush. But without a well-designed bowl with its water channels and trapway sized to effect an optimum push and siphon power, it is all down to being mediocre.
It is without a doubt that this H2Option toilet has everything in place to give you not just flushing prowess, but excellent bowl cleansing efficiency as well. As you have seen with 20% less water, it is still high up on the 'Highly Recommended' category of the MaP Score Chart. If this is not proof of a well-designed bowl (or overall as a toilet), what is?
So stop harping on the MaP 600 rating. It is not a downgrade; it is the same American workhorse that still gives you a decent flush and bowl rinse. Only to save you more water and money this time. So why not?
Since all the parts have not changed, can the water volume (level) in the tank be adjusted higher?
Yes, you can. The installation manual has the details with pictorial illustrations, easy to follow along. Or even better with watching a video (below).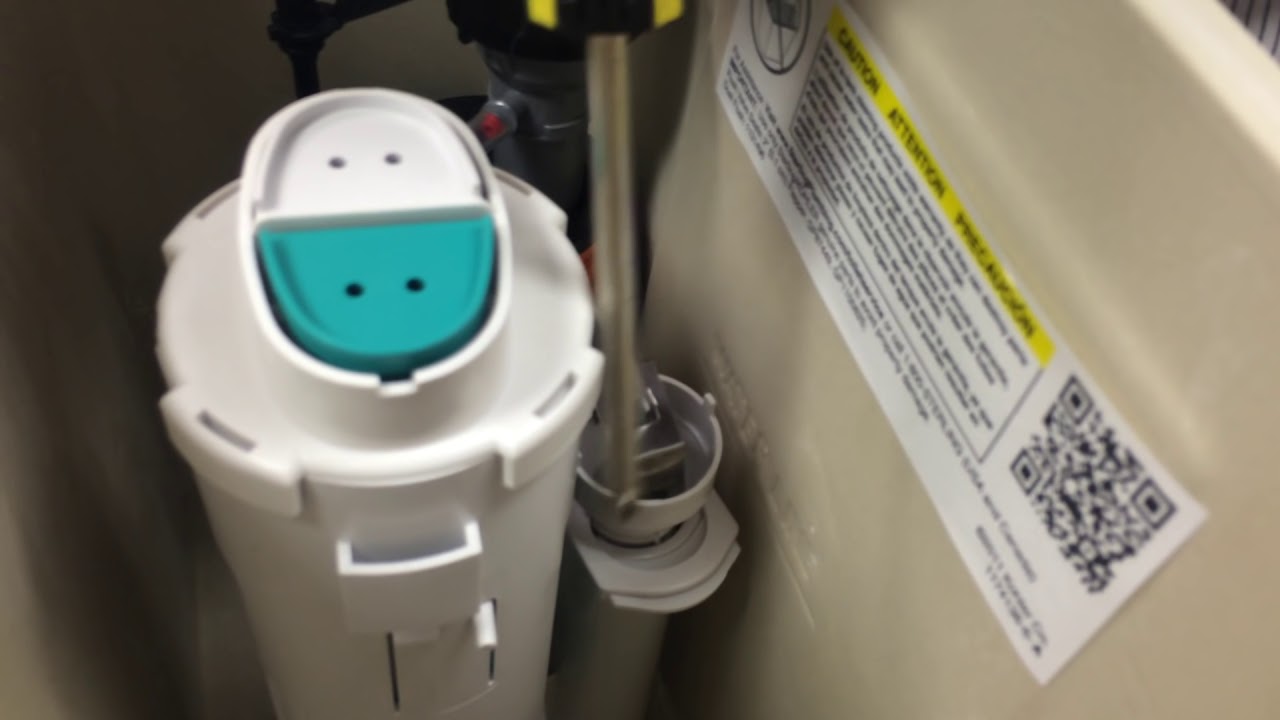 ---
Features & Specifications At A Glance
The features that make this H2Option toilet such an excellent waste clearing machine are American Standard's signature PowerWash rim and EverClean antimicrobial surface. These two features are responsible for a clean bowl with every flush.
The super-smooth EverClean glaze prevents waste from clinging stubbornly on the bowl surface, making it easy for the PowerWash to sweep everything down into the bowl outlet.
And the tower flush valve is the main engine that powers the PowerWash rim and siphon jet channel. Unlike the flapper valve, it allows more water to gush down the bowl faster through the glazed water channels and activate the siphon in the trapway in a timely manner.
The perfect coordination of the three features is what makes the flushing system so powerful and efficient. And that is how with only 1.28 GPF, the toilet is still capable of achieving a MaP Premium 600 rating.
Features
Siphonic action dual flush combination bowl and tank (less seat)
High efficiency, low consumption
Full Flush 1.28gpf/4.8Lpf
Conserving Flush 0.92gpf/3.4Lpf, utilizes 20% less water
Meets EPA WaterSense® Criteria
EverClean® Surface
PowerWash™ Rim scrubs bowl with each flush
Chrome-plated top mounted push button actuator
Sanitary bar on bowl
2 color-matched bolt caps
Specifications
Material: Vitreous china
Water Surface Area: Generous 9″x 8″
Trapway: Fully glazed 2″
Rough-in: 12″ (305mm)
Dimension (Elongated bowl): 31-1/2″ (H) x 15″ (W) x 29-3/4″ (D) (800mm x 380mm x 756mm)
Dimension (Round bowl): 30″ (H) x 15″ (W) x 27-3/4″ (D) (762mm x 380mm x 705mm)
Weight: approx. 91 pounds
Convenient Features
Besides the awesome flushing system design, this H2Option offers all-encompassing options catering to different user preferences.
Whether you need a round or elongated bowl, standard bowl height or comfort height, trip handle type, and position, you name it. It has almost everything covered. And if condensation or tank sweating is a problem, you can choose from the models with the AquaGuard Liner.
Though not the smallest of compact toilets, the round bowl model will fit nicely, without the awkwardness, in a space area of 30″ x 52″. Easily meets the minimum space requirement of building codes in most States.
And all H2Option models have the Sanitary Bar which helps to prevent the buildup of dust and dirt in the crevice between the tank and the bowl. Saves you time and the need to remove the tank for a thorough clean.
The only bummer is, it only comes with a 12-inch rough-in. If you have a rough-in of 10 or 14 inches, you will need a rough-in offset flange to accommodate the difference in rough-in size. But at least you still get to enjoy the great features of this American Standard H2Option toilet.
Easy Installation
Just a typical toilet installation on a typical day of a plumber. If you are comfortable with standard tools like a spanner or plumber wrench, caulk gun, hacksaw, and tape measure, you might want to try your hands on the installation.
It can be quite a challenge if you have not done a toilet installation before. But it's pretty simple if you follow the steps in the installation manual. There are tons of Youtube videos on toilet installation to watch as well. Even if it's a different toilet model, the procedures are the same for a standard two-piece toilet.
Or, just hire a pro to do the work for you. No mess no ick factor, and dinner as usual.
Pros & Cons Overview
American Standard H2Option Siphonic Dual Flush Two-Piece Toilet
Features
Pros
Cons
Bowl Width 14″
More space on the sides.
Uncomfortable seating for people who are large build.
Bowl Height
Available in 15-inch standard and 16-1/2-inch Right Height (Comfort Height)
–
Flushing Mechanism
Powerful flush produced by a flawless coordination of the tower flush valve, PowerWash Rim, Siphon Jet, and EverClean bowl finish.
–
Handle
Option for top push-button and side trip handle actuator.
–
AquaGuard Liner
(Optional feature)
Prevent condensation (tank sweating)
–
Exposed Trapway
Open access to the mounting bolts of the toilet seat. Easy for seat replacement.
Easy for dirt to accumulate and time consuming to clean.
2-piece Toilet
Tank and bowl can be replaced separately. Easier to handle a separate tank & bowl during installation.
Mold, bacteria & dirt accumulate at the seam. Not easy to thoroughly clean without removing the tank.
Water Surface Area
Large 9″ x 8″. Minimize bowl streaking.
–
Rough-in
Standard 12-inch
Users with 10 and 14 inches rough-in will need to use a rough-in offset flange.
Toilet Seat
–
Need to buy separately.
Price
Good
–
Warranty
Limited lifetime warranty on chinaware and limited five year warranty on all mechanical parts.
–
Thinking Of Buying The Old Models?
Can you still buy the old models? You may be thinking since nothing has changed, and you still prefer the higher MaP rating, might as well.
Yes, you might still be able to get the obsolete models on Amazon. But watch out for the price. Some sellers might capitalize on this line of thoughts and price it a little higher than before. So make sure you compare the prices of old and new models before making your purchase.
In any case, it is not recommended to buy obsolete models as new. There's always the grey area on warranty and support. Though not a big deal in this case, it is good to take into consideration when you decide to go for the old models. But since you can adjust the flush volume up anytime, why even bother.
The Full Range
If you have been following the changes, you probably would have noticed the model 2888.216, which is a round bowl, comfort height toilet, has been taken out of production completely. That means there is no new model to replace it.
The current line up has only one round bowl model, and it is a stand height bowl. But all is not lost, you can still buy (fingers crossed) the old model on Amazon if that's your preferred toilet.
So here are all the 5 models with its variations and the respective previous models being replaced.
American Standard H2Option Siphonic Dual Flush Two-Piece Toilets
Standard Features:
Two-Piece Tank & Bowl Gravity Flush
Trapway Exposed (Non-Skirted)
Full Flush (1.28 gpf/4.8 Lpf)
Partial Flush (0.92 gpf/3.4 Lpf)
Water Surface Size 9″ x 8″ (229 x 203 mm)
PowerWash Rim
EverClean Antimicrobial Surface
Comes in Round and Elongated Bowl
H2Option Model: 2886.218.020
Elongated Bowl
Right Height (Comfort Height)
Dual Top Push-Button Actuator
H2Option Model: 2887.218.020
Elongated Bowl
Standard Height
Dual Top Push-Button Actuator
H2Option Model: 2889.218.020
Round Front Bowl
Standard Height
Dual Top Push-Button Actuator
Summary
So there you have it. A simple adjustment on the water volume and they've got you a whole new range of the popular H2Option toilets. Pretty smart move by American Standard.
But what's more important is still performance.
As the MaP Premium rating has shown, despite a significantly lower flush volume, it is still standing firm in the 'Highly Recommended' category. That alone is evidence of an excellent toilet design that still offers a more than decent flushing power.
But why the need to adjust down the water volume when it is still the same old H2Option toilet?
Don't be surprised to see all the 1.6 GPF toilets being phased out eventually. Not just American Standard, the other toilet makers like TOTO and KOHLER are heading towards a smaller flush volume. There is a possible nationwide regulatory change on the horizon to mandate all toilet flushings to be lower than the current limit of 1.6 GPF. As it seems, it will likely be reduced to 1.28 GPF max.
But if you still can't get over the lower flush capacity, what's stopping you from adjusting the water volume higher, or back to the 1.6 GPF level? But don't you want to save water and enjoy a lower water bill every month?
Start adapting to the trend or get frown upon later when you are found to still flushing excessive water resources down the drain. So don't touch the fill valve adjustment knob of this wonderful American Standard H2Option toilet, if you can.