Space Saving Toilets For Small Bathrooms
Toilets For Small Bathrooms – Exploring The Various TypesAnd Models
What are the types of compact size toilets that are ideal for small bathrooms?
Whatever small bathroom ideas you may have, the size and range of toilet types out there will amaze you. And you will have no problem finding a matching one that goes well with your bathroom design.
Choosing the right water closet will save you space and still offer good aesthetics. And most of all, it's comfortable to use for the whole family.
So what are the space-saving toilets out there that will fit your budget as well as your tiny bathroom? Let's explore them all in this article.
But first, you need to determine the available space allowed for a toilet. This is crucial, if you don't want your bathroom to look awkward with a closet model that is too big for the small space.
Which is why the minimum space requirement is so important. You will have to work it out before shopping for the right size commode.
Minimum Space Rule For Toilets
The main dimensions are the Width and Depth (front to back). As these will determine the size of the toilet that is suitable for the space area.
The height is usually less of a concern as the minimum ceiling to floor is 80″ (or 6.7 ft) in most building codes. This is more than enough vertical room for any toilet.
Unless you plan to install under the stairs or some loft space with a low height. Then be sure to position the toilet where you have decent spacing above your head when you stand up. Otherwise please scrap the idea of having a water closet in that space. It's just not good for safety reasons and unhealthy as well.
But let's not dwell too much into the minimum space rule here and lose sight of the main subject.
While the size of the toilet is important, there are features you may also want to consider. Such as, ADA Compliant, Comfort Height and Water Saving. These features are also available in compact toilets.
So be sure to make a list of features you want when you go shopping for a mini size toilet. That will help you narrow down to more specific models and save precious time.
List down all your criteria and you won't go wrong when shopping for a compact toilet.
Space Saving Toilets For Small Bathroom Ideas
Bathroom designers and happy users will tell you to go for the compact elongated bowl toilet. This is because elongated bowls are more comfortable (especially for men) to use. And they blend in well with any bathroom design.
But bear in mind elongated toilets tend to be longer. So unless you have enough depth space, you are better off with a round front model. That will save you about 2 to 3 inches of front space. Otherwise, you can opt for the wall-hung type which will save you even more inches.
Another factor to consider is the rough-in size. The most common size is 12″, which is desirable because you will have the widest range of brands and models to choose from.
But if space is really that critical, a 10-inch rough-in model may be a viable solution to consider. This will position the toilet further back against the wall saving you some depth for more spaces at the front.
However, not all 10″ rough-in toilets are meant for saving space. Some will have the same dimension as the 12″ models. So be sure to compare the dimensions before you decide on one.
IMPORTANT:
If you are doing a replacement, it is recommended to get back the same rough-in size as your existing toilet. Otherwise, you will have to use an offset flange to adapt.
Space Saving Toilets Selection – Recommended Models Based on User Reviews
---
---
Compact Elongated Bowl Toilet
If you have no issue with the depth space, an elongated bowl toilet will be a smart choice. But if width is a little narrow for comfort, you can still spot a few toilet models with a narrow bowl width.
Typically, the bowl width comes about 14″ to 15″ wide. Any larger, then you are probably looking at the regular size toilets.
Any elongated bowl with less than 28 inches in total length is considered a space-saving toilet. But some manufacturers have it close to 29 inches and still call them compact toilets.
So there really isn't a standard to classify what is regular or compact size to begin with. It's all about marketing, and you just need to get the best fitting toilet for your small bathroom. Always give your attention to the dimensions and not what it is called.
Popular Compact Elongated Bowl Toilets
Here are a few compact elongated bowl models to look at. They are based on real user reviews that ranked them the best small elongated bowl toilets.
Round Front or Round Toilets
They are shorter in length compared to the elongated models. These compact round front toilets are good for spaces that are tight in both width and depth.
It gives a squarish bathroom space the comforting curves that are pleasing to the eyes. However, some guys might not like the short front (no pun).
Other than the shorter length, they have the same flushing power and efficiency as the elongated models.
Popular Round Front Toilets:
Tankless Toilet
The tankless toilet has the benefit of a siphon flushing system with large water surface area and be clog-free like the washdown type. As the name suggests, it doesn't have a tank attached. It uses an inbuilt electric pump and piped water for flushing, so it needs electricity to work. Not very useful if you live in an area with frequent power failure.
Typically they have a bowl length which ranges from 25″ to over 30″. But don't base your decision on just the toilet length, you need to also factor in the wall clearance, if any.
For example, the KOHLER Numi K-3901 may have a length of just 25.75″, but you need a wall clearance of about 3.5″. That will take up more than 29 inches of space (front to back). The reason for this wide clearance is for the auto-opening of the seat cover.
But not all tankless toilets need such wide clearance for the seat cover. At least not for TOTO Neorest.
The biggest drawback is its high price tag. They belong to the high end range of flushing toilets. A standard model can cost any where between $1500 to $3000, not including installation.
If you ever own one, you will never want to go back to the tank-and-bowls. Users just love the feel and efficiency of these tankless toilets.
Popular Tankless Toilets
Here are the 2 popular TOTO Neorest tankless toilets with bowl length shorter than 28 inches.
Wall Hung Toilet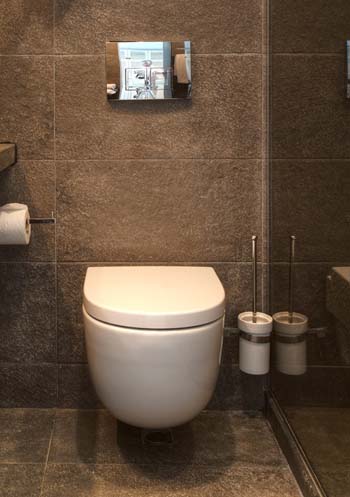 Like the tank and bowl crappers, wall-hungs are also gravity flush toilets. The difference is, the tank is hidden behind the wall. It comes with a carrier which support the bowl and holds the tank within its metal structure.
Wall mounted toilets are great space saver and less expensive than the tankless models. You can save up to 9 inches in length space, and you can set the height to anywhere between 15″ to 19″. So you get to choose between regular seat height or comfort height.
There are concerns that it won't hold too much weight, and over time it might just give in and fall. But in countries like Switzerland, over 90% of toilets are wall hung. And they can last for as long as 30 years without an incident.
Many users love the sleek and clean look, that give a small space an open feeling, a sense of spaciousness. You will also love how easy it is to keep clean.
The carrier is usually sold separately with the bowl. But you may also choose a different make of carrier to go with the bowl. The most well known wall hung toilet carrier is Geberit. The company produces a wide range of carrier systems to match bowls from other manufacturers.
Not Your Typical DIY Project – Wall Hung Toilet Installation
Installation can be a little tricky. As in the carrier must be carefully installed to avoid costly repairs later. Unless you know what you are doing, do not attempt to do your own installation. It is better to leave it to a plumbing company with experience installing wall hung toilets.
The best time to install a wall hung toilet is when you are building a new powder-room or bathroom. This is because the sewer line is laid differently from those floor-mounted crappers. So if you are planning for a new bathroom in a small space, be sure to consider the wall hung system.
Corner Toilet
When you are facing a tight space issue in your bathroom remodeling, may be you should look to the corner. Filling a corner space has always been a natural thing to do when space has become a rare commodity.
If the corner is the only way out to optimize space for other bathroom fixtures, a corner toilet is your best option.
It is basically a floor mount gravity flush tank and bowl water closet, with a triangular shape tank. Obviously designed to fit a corner as a way out of a peculiar space limitation.
But can you replace your existing toilet with a corner crapper?
No you can't. This is because the rough-in of the corner toilet is measured from both perpendicular walls (diagram right). Typically 12 inches from both sides to the center of the sewer outlet. A regular back-against-wall toilet is unlikely to meet the 12″ X 12″ rough-in.
So again you can only do it on a new build or remodel.
Recommended Corner Toilets
Macerating Toilet (Also Known As Upflush Toilet)
So you intend to convert an unused space in the house to a restroom, and you probably don't intend to make it permanent. Your best option is a macerating toilet, also known as an upflush toilet.
The best thing about upflush toilet is, you can virtually install it anywhere. As long as cold water connection and electrical power can be tapped, and there's no need for a drain pipe.
But not any macerating toilet, it has to be this macerating toilet.
Remember, we are on the subject of space saving toilets. So it has to be compact. With a length of only 17.5″, this up-flusher will fit in any small space you've got for a powder or washroom.
Get the full feature review of this macerating toilet here.
How Does A Macerating Toilet Work?
Just like the tankless toilet, this little macerator doesn't have a tank attached. The water for flushing is supplied by a water line, and a pump with blades to grind solid waste into smaller bits. The slurry is then pumped out through pipes connected to the sewer line.
The liquid waste can be transported upwards through the discharge line up to a height of 9 ft (hence the name upflush toilet). Perfect for a basement setup and places where sewer drainage is not accessible.
And like the tankless toilet, this macerator needs electricity to work. So you know the drawback when power kaput.
Macerating Toilet Installation And Care
Installation is not difficult for a plumber as the bulk of it is regular plumbing work. It doesn't seem like an easy DIY job as it involves connection to the sewer line. Unless you are a qualified plumber yourself, you won't want to risk an improper connection.
And, you will also need an electrician to install a power outlet if there isn't one at the chosen location.
Again, a word of caution here. Unless you know plumbing and electrical code at the back of your hand, do not attempt to do the entire installation yourself. Always get professional help if you have to.
And bear in mind this is not your regular flush toilet. Its piping are small 1 inch pipes that cannot handle anything other than macerated waste and paper. So be careful with what you dump into the bowl. Plunging is useless on this crapper.
Proper use and care is a must to avoid expensive repair and maintenance cost.
Video – How a Saniflo Macerating Toilet works and How to Install it.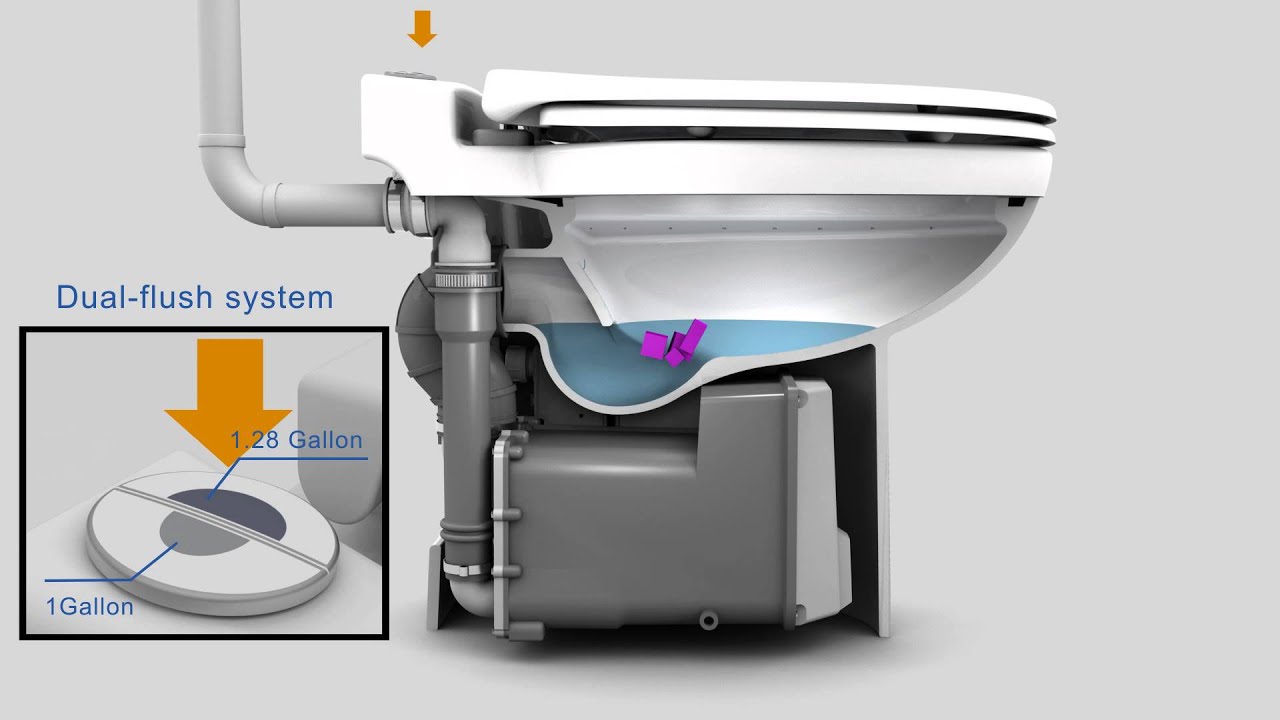 ---
---
Have you got an idea of what toilet type to choose for your small bathroom? Leave your comments below if you know of a better solution and thanks for reading.