American Standard Studio S Toilet – Powerful & Quiet
Love At First Sight With This American Standard Studio S Toilet
At first look, you might tend to associate this American Standard Studio S toilet to an electric potty with all the bells and whistles, like the Axent One C-Plus. But no, it is just a regular one-piece gravity flush siphonic toilet that operates almost the same way as your existing water closet.
It's more like the manual flushing tankless Axent Primus. If you have read about the Axent Primus, it will start to make sense of it's 'tankless' design. But of course, this American Standard Studio S Toilet will have its own twist.
So, if you have always desired a toilet that offers barrier-free access, super easy to clean, and a minimalistic appearance (like the wall-hung), this is it.
Or, you may be contemplating a wall-hung toilet but are concerned with how it will hold up the weight over time or simply reluctant to go through the hassle of a remodel, you should take a good look at this American Standard Studio S toilet (model: 2548A100.020).
Extraordinary Features & Specifications
To say it's just a regular siphonic toilet is a little unfair to this Studio S crapper. If you look closer, it actually has a lot to offer in terms of flushing efficiency and water economy. And definitely far from being a regular toilet in its construction.
Featuring PowerFlo Technology in its flushing system, according to the company, the flush is both powerful and quiet. This is not a bold claim. Its power is backed by an outstanding MaP rating of 1000, notwithstanding the flushing capacity is only 1.0 gpf. And bear in mind, this American Standard Studio S is not an electric-powered toilet.
So with that little water capacity, and without a high tank and electric power, the PowerFlo Flushing Technology must be pivotal in producing the flushing power that gives it an impressive MaP 1000 rating.
How does the PowerFlo work And What Are The Rest Of The Features?
PowerFlo Flushing System
As it is a new flushing system designed by American Standard, other than 'Powerful' and 'Quiet', the maker hasn't elaborated further on its working mechanism and how it is better than the usual flushing method.
A glimpse under the hood reveals two cylindrical structures, which presumably is the flush valve that drains water into the bowl during a flush. Or are they water storage capsule? Whatever. But it sure reminds you of the Vormax – a dual flush valve system.
The Vormax is known for its flushing power and efficiency because of the water channels are served by two individual flush valves. One for rinsing the bowl through the CleanCurve rim and the other goes directly to the bowl jet for maximum power to push waste out of the bowl.
The difference here is, the PowerFlo system is not using the chain and flapper system like the Vormax. That is significant as it eliminates the issue of the chain interfering with the valve closing, as seen in some cases experienced by Vormax users.
And, is that the reason why the tank can be made 'invisible' since the water flow rate can be doubled with the use of the space-saving-and-more-efficient dual cylindrical flush valve (or water capsule)?
But hang on. Does that also remind you of Axent's Airless Siphon Technology (or AST)? Are they the same, or American Standard has a better design considering that it uses only 1.0 gpf versus Axent's 1.28 gpf?
Without a comprehensive understanding of how the Powerflo system operates, it is just pure guesswork. This section will be updated once there is more information released by American Standard. Nevertheless, this American Standard Studio S toilet is looking good to be a hit.
Powerful And Quiet
With a MaP 1000 rating, you can't doubt its power. But quiet?
There are no independent bodies or standards to certify how loud or silent a toilet flush should be. But since there isn't a tank sitting on top, there couldn't be much of the water gushing noise.
And with the CleanCurve rim, which is known for its silent rinsing, you can be sure the noise level will be significantly lower than a regular tank and bowl crapper.
CleanCurve Makes A Rimless Bowl
If you prefer an open rim versus the traditional rim holes, you should have heard or read about the CleanCurve rim. This is another prominent Vormax feature that is used on this American Standard Studio S toilet.
The advantage is that it opens up the rim for easy cleaning and is impossible for dirt to hide and accumulate. So that makes this Studio S toilet super easy to upkeep with all the flat and open surfaces.
And you will love the spiraling water from the top down to the bowl outlet, sweeping every inch of the bowl surface to clear away sticky waste. With the CleanCurve rim, the chances of getting a clean bowl without any traces of dirt are high with every flush.
CleanCurve Rim Bowl Rinsing
Rest of The Features (All Good)
Other than the PowerFlo flush and CleanCurve rim, the rest of the features are nothing extraordinary by AS standards. But one feature that deserves some praise is the water surface area. Despite having a 1.0 gpf capacity, it is commendable that they can still maintain a 9″ x 8″, an American Standard standard water surface size.
But that comes with a little compromise. That is, the trapway size is the minimum 2-inch industry standard. Not at all a flaw or overlook, it's probably a deliberate design to give you an excellent water economy and a decent water spot for ease of use at the same time. A well-balanced configuration if you will.
Besides that, you have a comfort height bowl at 16-1/2″ tall and a soft-closing seat that you can easily remove for cleaning.
The bowl is fully glazed, including the internal trapway surfaces. And the rest of the designs cater for a standard installation. So you can replace your existing crapper with this American Standard Studio S toilet directly without other technical considerations.
Last but not least, if the water supply line is an eyesore, you can choose to hide it completely. Not a trace of the piping and supply valve is visible. But to do that, you will need a shutoff valve that is a compact 1/2″ with 1/4 to 1/2 turn.
Specification & Dimensions
| | |
| --- | --- |
| Description | Specification |
| Design | One-piece, low-profile, tankless, and skirted |
| Bowl Shape | Elongated |
| Bowl Rim | CleanCurve (rimless) |
| Flushing System | PowerFlo (single flush) |
| Flushing Activation | Single push-button |
| Water Consumption | 1.0 GPF (3.8 LPF) |
| Rough-in | 12-inch (305 mm) |
| Trapway | 2-inch, fully glazed |
| Water Surface Area | 9-1/4″ x 8-1/4″ (235 x 210 mm) |
| Bowl Height | 16-1/2 inches (419 mm) |
| Overall Dimension | 31-1/8″ x 16-3/8″ x 18-1/2″ (790 x 416 x 468 mm) |
| Certification | US EPA WaterSense, MaP PREMIUM |
Install Just Like a Regular Tank & Bowl Toilet
If you have installed a skirted toilet before, you will find that this is a lot easier. There is no drilling on the floor required, and template is not provided, no need. It mounts like an exposed trapway, directly onto the flange bolt.
Why bother when I'm hiring a plumber to do the installation?
It is good to know even if you plan to hire a plumber for the installation. Then you can communicate effectively with the service person about your toilet if he or she has doubts about a standard installation. Then you won't be quoted as a bespoke job which cost more usually.
Let's go straight to the most challenging part of how to mount the toilet onto the floor flange. It's so easy you might want to consider installing it yourself if you are a hands-on person.
From the sides, of course, you can't see the flange bolt mounting hole. You will need to remove the rear cover to see the two mounting holes on the toilet bowl horn outlet. Then mounting the toilet and aligning it to the flange bolts is easy.
The space around the flange bolt is very cramped, so not feasible to use a wrench there. Instead, a special T-handle that comes with the toilet is for tightening the flange nut onto the bolt. And don't discard the T-handle after the work is done in case you need to remove the toilet for a replacement or solve a problem.
And for those who have experience installing some concealed trapway toilets, they will understand why the need to install the seat first before bolting down the bowl. With this Studio S 2548A100 low-profile toilet, you can only install the toilet seat after the bolt down.
Watch the installation video below, and you will know why you can't install the seat first and no more sweating and cursing trying to tighten the seat mounting bolts regardless of your hand size.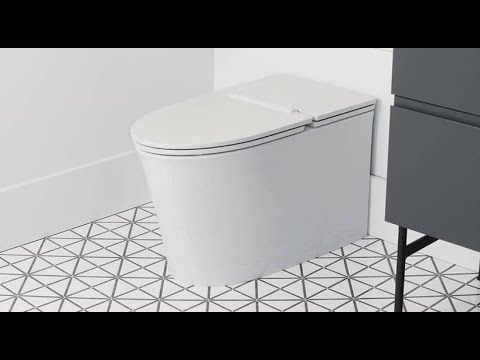 Some Trivial Disadvantages
1. Size
First off, the size is a tad too long. At 31-1/8″, you will need at least a front-to-back space of 55 inches. In contrast, the Axent Primus has a length of 28-9/16″ with a flushing capacity of 1.28 GPF. So it seems the water storage is not as efficient as the Swiss crapper that it needs a bigger storage area.
If space is not an issue for you, then this is irrelevant.
2. Spare Parts Support
Second, the parts are not standard parts you can buy off the shelves or from a third party vendor. So buying original parts from American Standard or its dealers is not an option.
Cross your fingers that they are not expensive and won't take forever to arrive at your porch. But bear in mind that this American Standard Studio S toilet is new; the spare parts support will catch up eventually.
3. Color Options
And, as it seems these days, white is the only color for many newly launch toilets. Probably to cut down on inventory costs and to get a better economy of scale so they can be priced more consistently throughout the life span of the product.
OK, that's just an assumption. There is no solid evidence to back that. So, is the only color White OK for you?
What's the Price and Best Place to Buy this American Standard Studio S Toilet?
The only question left unanswered is, How much does it cost?
You can compare prices among Amazon, Home Depot, and Walmart, which is usually lower than buying directly from American Standard. Or, you can approach any of the official dealers near you.
At the time this post was written, the list-price over at American Standard shows $ 1,295.00. And it would be best if you never bought at list-price because it is the highest. So, do check around to get a feel of what the real market prices are like before committing to a purchase.
Wrapping Up
Nevermind about how PowerFlo works. For the fact that it is a 1.0 gpf and still able to achieve a stately MaP 1000, it has to be a good flushing system design. It even beats the TOTO Neorest 700H smart toilet, which only manages a MaP 800.
It is a powerful waste disposing machine, no doubt about it. And based on the low profile and integrated tank design, you won't get that embarrassingly loud flushing noise of a typical tank and bowl toilet. It could be quieter than you can imagine.
And if toilet cleaning is not something you would like on the routine, all the more you should consider this Studio S 2548A100.020. Not that it is maintenance-free, its flat and open surface will cut down considerable cleaning time and frequency.
The takeaways are;
It doesn't require electricity to operate
Water Consumption is only 1.0 GPF
Highest Map 1000 rating
Barrier-Free Access with its Tankless Design
Super Easy to Maintain
Install like a Regular toilet
Great Aesthetic
So, are you still contemplating to go for a wall-hung toilet? Or ditch that idea and get this American Standard Studio S toilet and avoid the messy remodel you are not prepared to endure.