TOTO Carlyle II – Best Features & Benefits Of A Toilet
TOTO Carlyle II MS614114CEFG#11 1G One-Piece Toilet Review
TOTO Carlyle II MS614114CEFG#01 – Great Looking Powerful Water Saver
Not only it saves water; it's powerful, quiet and efficient. You shouldn't miss this TOTO Carlyle II if you are looking for a one-piece and skirted toilet. Besides its luxury appearance (as one user puts it), it has every feature unique to TOTO, and compact enough to fit into a 30″ X 50″ space.
With 1.28 gpf or 1.0 gpf, its flushing capability and cleansing efficiency are comparable to those 1.6 gpf toilets. And using a separate trapway adapter, it adds flexibility with a choice of three rough-in options.
But is it worth its salt? Can it really flush or it's all marketing fluff? What about the bowl cleansing efficiency? Will it clog? Is it noisy? What are its disadvantages? How much does it cost?
You need answers, fair enough. And that's precisely what this post is going to give you. So let's dive into the details and see if this TOTO Carlyle II high-efficiency toilet is genuinely worth your time and money.
TOTO Carlyle II – Features & Benefits Overview
If you hated cleaning the toilet (who doesn't), this one-piece and skirted TOTO Carlyle II is at least not so much of a pain to clean and maintain. Not entirely free of crevices but compare to an exposed trapway toilet, there's a lot lesser surface area to wipe.
Plus, the CeFIONtect (previously known as SanaGloss) coating on the bowl surface makes it ultra smooth for any stubborn dirt or bits of waste to cling on. Even if your diet is severely lacking in fiber, removing the occasional smear is easy with just water.
It is ADA compliant, and the comfort height seat is very forgiving to the knees. But as usual, some users are not too fond of it. For those comfort-height haters, the Squatty Potty can lessen their prejudice.
The Tornado flush is really a kingmaker. Every TOTO toilet that features the Tornado flush sells much better than those with the conventional flushing system. The Carlyle II has it, and you are sure to love the scouring swirl that cleanse so much better than the traditional rim-hole stream. And it is more interesting to watch (your cat will like it better).
Another benefit you get out of the Tornado flushing system is an open rim bowl. That means there aren't any rim holes to clean or unblock. So cleaning is just one smooth wipe around the open rim; no more water jets needed to dislodge any accumulated dirt or grime. No risk of wetting your wood flooring and you can stay dry too. Summary
Using just 1.28 gpf (1.0 gpf on Carlyle II UHET models), this TOTO Carlyle II HET toilet is WaterSense certified. Unlike its rival models, TOTO has proven that with this little water, it can still pack a powerful flush and with high cleansing efficiency.
Size wise, this Carlyle II is compact enough for a minimum space that's about 30″ x 53″. It's a good size toilet for just about any standard bathroom layout. All models, regardless of flush capacity, have the same dimensions of 28-1/4″ (L) x 28-3/4″ (H) x 16-1/2″ (W).
Finally, with three rough-in options, the toilet can easily be relocated to fit on a different rough-in size. You just need to buy the respective Unifit trapway, which is available for 10-inch, 12-inch, and 14-inch rough-in. Summary
Tornado Flushing System – Perfect Storm In The Bowl
The trapway and water channels in the bowl are computer-designed for a flushing capacity of 1.28 and 1.0 gpf. They are sized and shaped with high precision to optimize water flow rate for a timely siphon and also provide adequate water volume to cleanse the bowl.
How does it work?
Flushing begins with the opening of the flush valve. Water then gushed out of the tank and channeled through two waterways in the bowl. The outlet for the speeding water is two nozzles positioned along the open rim.
When water jets out of the nozzles it spirals down scouring every inch of the bowl surface and sweeping away any waste in its path. As water continues to flow out from the waterjet holes, it begins to fill up the trapway. And just before reaching its maximum speed, a siphon is initiated.
Then what you see is a sudden pull, or suction that removes every material out of the bowl. If you love to watch a toilet flush, the entire process feels like waste is being drilled down the drain. Or pretty much like an airplane toilet but a much gentler version and without the loud blast.
So from the moment water leaves the tank to pulling down the waste, every step is well coordinated and perfectly timed for maximum flush efficiency. Every ounce of water is well utilized for rinsing the bowl and leveraged in clearing the bulk of the waste.
And not forgetting the CeFIONtect surface finish also plays an essential role in the entire flushing process. Without it, the cleansing will have to cut back a significant percentage on efficiency. Summary
Flushing Power According To MaP Rating
If you feel there are too much hypes and fluff these days surrounding a toilet performance, just turn to MaP. The Maximum Performance (MaP) is the industry standard for toilet testing and the only third-party test lab that provides certification on toilet performance in waste removal.
With a developed toilet testing system based on quantifiable data, MaP testing sets the bar for toilet performance. It uses close-to-the-real-thing organic test media to simulate realistic toilet demands.
Since 2003, MaP has tested over 5,000 different fixture models. You name it, single-flush, dual-flush, UHETs, HETs, tank-type, and commercial flushometer valve/bowl combinations… whatever. And you can also see and download the complete MaP list of toilet brands and models on their website.
The MaP test is the closest you can get of a toilet's actual performance. But let's not dwell into the detail of how the test is conducted. If you are keen to know more about MaP as an organization or the test procedures, please visit here and here.
So back to our TOTO Carlyle II toilet. Does it have a MaP rating? And how is it rated?
The Carlyle II 1.28 gpf model (MS614114CEFG) scores an impressive MaP 1000. That means it is capable of clearing a massive 1000 grams (maximum test load) of waste in one single flush. And the 1.0 gpf UHET model (MS614114CUFG) is a close MaP 800.
You can do your own MaP search here for the two Carlyle II models. Summary
One Toilet Three Rough-ins
This TOTO Carlyle II is not your typical one-toilet-one-rough-in toilet. With the same toilet, you can fit into three rough-in sizes. Instead of a full molded trapway, the porcelain channel is 'cut' about 6″ from the base, and it is to be connected to a PVC Unifit Rough-in.

The Unifit Rough-In is a separate part that mounts onto the toilet flange. The opening end with the rubber sleeve is where the trapway outlet from the toilet bowl connects. That's how you can switch rough-in sizes without changing the toilet. This is particularly helpful when relocating to a different rough-in size. You just need to purchase the right Unifit Rough-In for that matter.
The Unifit Rough In comes in 3 sizes – 10″, 12″ and 14″. The common 12″ rough-in is shipped with your order as standard. If you need a different size rough-in, you will have to purchase the 10″ or 14″ PVC Unifit separately. However, before placing your order, you may want to contact the seller or TOTO USA to request for a different rough-in to be sent instead. They might be obliged and sent you the requested Unifit Rough-in with your order without additional charges. Just remember to be polite and ask nicely. 🙂 Summary
Installation is Easier Than You Thought
Despite its weight (about 110 pounds) and one-piece, this TOTO Carlyle II toilet is easy to install. In a normal toilet installation, the most challenging part is to align the toilet to the flange that is attached to the drain pipe.
Most leaks that occur at the toilet base is due to a poor connection between the bowl outlet at the toilet base and the drain outlet. This is because you can't see the alignment or check if the wax ring has effectively sealed the connection. You rely on the 2 T-bolt positions to gauge the alignment and hope that the wax ring is well compressed to provide a tight seal. That requires a little experience.
With this TOTO Carlyle II toilet, there's no guessing work. Instead of having to lift a 100-pound toilet and trying to align it to the flange below at the same time, you can now make the connection with a clear visual on the alignment and check for a tight seal with the wax ring. All without lifting an ounce of the porcelain.
A standard 12″ Unifit Rough-In is included and is used to make the toilet connection to the flange. Once the Unifit is secured, you can proceed to connect the trapway to the Unifit trapway adapter. It is now you will have to lift this 100 pounder to make the trapway-Unifit connection. The rubber-sleeved opening on the adapter will seal up the trapway with no risk of leaking.
The difference is you need not have to worry about the wax seal on the drain outlet, because it's already well secured. And you can do the minor alignment of the toilet to make sure it sits straight and parallel to the wall. This is usually not recommended with the typical direct flange connection, as there's the risk of moving the wax seal out of position. In this case, a little positioning movement is not going to hurt.
Once you have anchored the toilet in position and hooked up the supply line, you are done. Easy peasy. Now fill up the tank and take a test flush.
The installation is so easy you can save money by doing it yourself. But please remember this thing weighs over 100 lbs, so watch your back and please get help.
One thing you need to know if you are replacing your old toilet with this TOTO Carlyle II.
Because this Carlyle II toilet is a concealed trapway design, a minimum 8-inch clearance to the left (facing the toilet to your left) is required – measured from the center of the toilet (see dimension diagram above). Otherwise, the existing supply valve may get in the way, and you will need to shift it away from the obstruction.
An easy way to get around this without breaking the wall for re-piping is to use an offset valve (image left). You can get this offset valve from DAHL. They are designed for skirted toilet such as this TOTO Carlyle II.
Below is a video on how to install the TOTO Carlyle II toilet.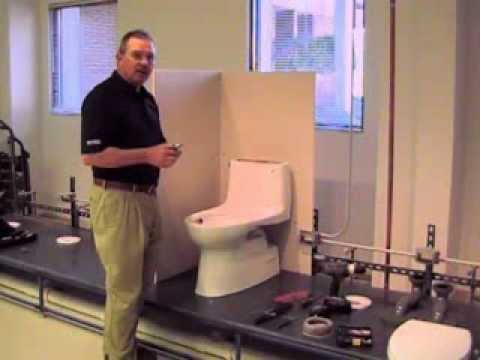 ---
Disadvantage Of TOTO Carlyle II Toilets
The toughest thing to write in a TOTO toilet review is the disadvantages. Not that there aren't any, but trying to pick bones on a well-designed product may render a review biased. In order to be objective, there must be a balance of user experience and design (aka science).
And since there are more positive user experiences, in this case, a lot more than negative, it speaks volumes of its design. You may call it flawless though, but there are no perfect products in this world. Maybe the high price might irk you a little bit, but that has nothing to do with its performance.
Some overly critical folks had their fingers pointing at the PVC Rough-In and questioned if PVC can equal porcelain regarding mechanical strength and durability. Rest assured, PVC has excellent chemical resistance and mechanical properties. PVC definitely have better tensile strength than porcelain. They have been widely used in chemical storage tanks, drainage as plastic valves, flanges, sewage pipes, and industrial plant pipings.
Have you ever seen a porcelain pipe, porcelain valve or flange?
If there are any disadvantages to speak of, it will be the one-piece and skirted design. Once you break it, be it the tank or bowl, you need a new toilet. And from an engineering perspective, every joint and connection (trapway to Unifit) is a weak link. And that should also include the connection to the drain outlet. Lastly, this TOTO Carlyle II toilet doesn't come with a round bowl (Bummer).
Pros & Cons At A Glance
TOTO Carlyle II 1G One-Piece High-Efficiency Toilet with CeFIONtect
| | Pros | Cons |
| --- | --- | --- |
| Flushing Mechanism | Powerful Tornado Flush flushing system efficiently cleans bowl surface with spiral wiping effect. | Single flush – Uses same water amount for flushing liquid waste. |
| Surface Finisih | CeFIONtect – prevent waste from sticking to bowl surface. Cleaner flush. | – |
| Concealed trapway | Easy to clean. | – |
| 1-piece Toilet | No tank to bowl seam – totally eliminates possibility of mold, bacteria & dirt accumulation. Very easy to keep clean. | Tank and bowl cannot be replaced separately. |
| Elongated Bowl | Comfortable to use. Especially for guys. | Not available in Round bowl. |
| Rough-in | 12″ with optional 10″ and 14″. | – |
| Water Surface Area | Fairly large – 6.875″ x 9.75″. | – |
| Toilet Seat | SoftClose seat included. | – |
| ADA Compliant (Comfort Height) | Comfortable seat level – easy to get up and seated. | – |
| WaterSense Certified | Yes – Save 20% more water than any 1.6 gpf toilet. | – |
| MaP Rating | 1000 for 1.28 gpf, 800 for 1.0 gpf | – |
| Price | – | On the high side. |
Common Problems Faced By Some Users
1. Stain and skid marks around the bowl outlet
Despite the tested and proven CeFIONtect surface finish, some users still get the dreaded stain or skid marks around the bowl outlet. Before concluding that the CeFIONtect is just fancy marketing hype, water condition must be taken into consideration first.
Hard water contains a variety of minerals which include irons, calcium, magnesium, and other metal cations. These mineral and metal elements in water can cause staining, generally called hard water stain. They are very damaging to pipings, fixtures, and appliances if left untreated over a period. Especially those who use well water for their toilet flushing. You can get the water treated with a softener like Morton Salt.
How do I know I have hard water?
There are varying degrees of water hardness. The obvious one is to see how well the soap in your hands lather with water. With hard water you will notice the soap will not lather up easily. Or, you can use a water hardness test strip to determine the degree of hardness of your water. The harder the water is, the faster stain will form.
2. Water Leaking Into The Bowl
The 2 parts that may cause a tank to bowl leakage are the Flush Valve Gasket or the Flapper. Again, these parts are susceptible to damage by water condition. If you got leaks not too long after you had your toilet installed, be calm and check for possible installation fault and the water condition. A brand new defective gasket or flapper will give leaks almost immediately and not wait till several weeks or months down the road.
But rest assured, the chances of you getting a defective new flapper or valve gasket is close to nothing. These parts are manufactured by Korky who has a reputation for great quality. That's why TOTO uses them pretty much for most of their parts.
More often than not, the culprit is hard water condition. If you rule this out, you might end up with a career of replacing valve gasket and flapper, regardless if it's a TOTO Carlyle II toilet or not.
3. Slow Tank Refill
This issue is usually caused by a blockage anywhere from the supply line to the fill valve, including the fill tube. Check the accessible parts first before taking out the fill valve for a closer look.
Start with the supply by disconnecting the braided hose from the tank. Remember first to shut off the supply. Point the hose into a bucket and open the supply valve. If the water supply is flowing smooth and strong, you've narrowed the problem to the fill valve. But if it isn't, you may have a bigger problem not related to your toilet. But don't call your plumber yet, replace the braided hose and try again. Still stuck? You can call your plumber now.
Some fill valve may have a small filter attached to the incoming side. Simply remove the filter with a long-nose plier and install back the fill valve. You should get a faster refill now. Otherwise, replace the fill valve with the Korky 528MP MaxPerformance Fill Valve. Almost 10 out of 10 times, the Korky 528MP never fail to perform.
4. Noisy Flush or Refill
Honestly, this has a lot to do with individual expectation. Until there's a scientific study or survey on what is an acceptable noise level for toilet operation, coupled with comprehensive data to support, it isn't for anyone to judge. What's noisy to you may just be a pin drop to someone else and vice versa. You will get no real answers.
Carlyle II Base Models And Washlet+ – How & What To Choose?
There are altogether 10 TOTO Carlyle II models. But please don't feel overwhelmed because choosing from the handful of Carlyle II toilets is stupidly simple. There are only 2 variations you need to decide on moving forward – It is either with or without a washlet. If you don't need the washlet then you are down to the two base model; it's either the 1.28 gpf or the 1.0 gpf model.
But if you intend to get a TOTO washlet (excellent decision) to go with a Carlyle II toilet, then you will have to consider the washlet features. So whether you prefer the 1.28 gpf or 1.0 gpf model, you will have 4 washlet options to choose from, including the ultimate S350e washlet with auto open and close lid. (Check out the full range of TOTO washlets)
Can I buy a base model now and decide on which washlet to get later?
Of course you can. But there is a little disadvantage if you buy them separately.
The models that are installed with a TOTO Washlet (let's call it the Washlet+ Toilet) are slightly different in construction. It has the provision for concealing the water hose and power cable connection to the bidet seat. So it will look as if the washlet is a part of the toilet. And it offers a small price advantage versus when you buy the toilet and washlet separately.
Not a huge advantage cost wise, but it does look better than having the water hose and cable dangling on the side of the toilet. So if you intend to get a washlet, might as well go for the toilet-washlet combination. Performance wise they are the same as the non-bidet models.
Then again, you might prefer another bidet brand such as Brondell or BioBidet. If that's the case, you are back with choosing between the 2 base models.
What Are The Advantages Of The Washlet+ Toilets?
Besides the toilet features discussed above, the washlet provides additional benefits that offer greater comfort, convenience, and hygiene. And you get to enjoy some of the best features that are uniquely TOTO. No other brands come close to offer something similar. Features like bowl sanitization and pre-misting are not found in other makes except TOTO.
All the four washlet models fitted on Carlyle II toilets have the Premist feature. It's basically a mist of water sprayed onto the bowl surface before use. According to TOTO, the thin film of water over the CeFiONtect finish improve dirt and waste elimination up to 80% with each flush. That makes perfect sense as a wet bowl surface reduces adhesivity. Makes it even harder for dirt and waste to withstand the sweeping Tornado flush over the ultra smooth CeFIONtect glazed surface.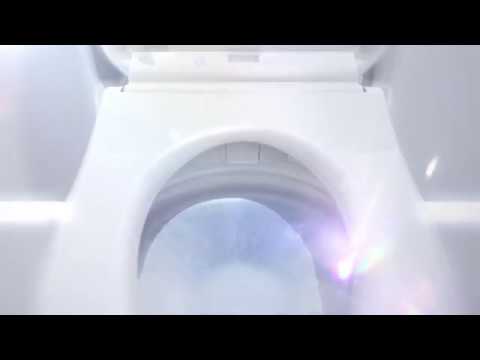 ---
And the bowl sanitization may have caught your attention. Yes, it's an exciting feature, and it is seriously effective in keeping the bowl free of microorganisms.
Using the same Premist technique, electrolyzed water (similar properties as household bleach) is sprayed onto the bowl after each use. This Aftermist will automatically repeat itself several hours later when nobody is using the facility. It will ensure your toilet is always in a sanitized condition and free of odor.
The auto bowl sanitization feature is only available on the S300e and S350e washlet models.
Below are all the 4 TOTO washlet models that come with the Carlyle II one-piece WASHLET+ toilet. It's pretty clear and easy to pick your desired model according to your budget and preference.
Washlet C100
This entry-level washlet has all the basic functions and even comparable to some intermediate models in the market. Its winning feature is the water premisting function which helps to reduce stubborn waste smear and assist in eliminating waste better. Makes the Tornado flushing significantly more efficient.
Washlet C200
This C200 washlet is an advanced model of the C100. It also has the water premisting function, and two user settings. Instead of a side control panel, it comes with a wireless remote control that gives you more freedom to execute all the functions and raise the level of hygiene in the bathroom.
One of the best selling model on Amazon with its unique feature being the massaging wash mode that offers greater comfort and wash efficiency. An intermediate model with an excellent build quality that surpasses all its rivals.
Washlet S300e
The second best of TOTO's signature Premier range of washlets. One of the four models that offer auto bowl and nozzle sterilization. Unrivaled and a class of its own, this bum cleaner uses self-produced electrolyzed water for sanitization. If hygiene is your top priority, you can't go wrong with this S300e premium washlet.
Washlet S350e
One of the top two washlet models that have all the features as the S300e. Its distinctive attribute is the auto opening and closing of seat/lid. And despite its high price, it is one of the best selling bidet seats on Amazon. Highly recommended if you have a generous budget.
To learn more about the 4 TOTO Washlet models, please visit https://toiletfound.com/toto-washlets-review-recommendation/
Here are all the Washlet+ Carlyle II Toilet models.
Carlyle II WASHLET+ One-Piece Toilet – 1.28 GPF
---
Carlyle II WASHLET+ One-Piece Toilet – 1.0 GPF
Summary
Have you got a clearer picture of this TOTO Carlyle II toilet now? Well, maybe not because you probably didn't read through everything. Hardly anyone does anyway, and that's perfectly fine. You are always welcome back to pick up the bits that are important to you.
So to recap what has been discussed, here is the essence of this TOTO Carlyle II toilet review.
Unique rimless bowl design eliminates the opportunity for mold, grime, and bacteria to hide and grow.
Powerful Tornado flushing provides a scouring effect to remove sticky waste and is highly efficient in waste removal.
Ultra smooth CeFIONtect glaze makes it difficult for dirt and waste to cling onto the bowl surface. Therefore skid marks will not form easily.
Compact size for a minimum space of 30″ x 52″.
High MaP rating despite the low flushing capacity of 1.28 GPF (MaP 1000) and 1.0 GPF (MaP 800).
ADA compliant and WaterSense labeled.
Three Unifit Rough-in adapter for 10″, 12″ and 14″ rough-in.
Finally, you can enhance the flushing efficiency of up to 80% with the WASHET+ models. Not only that, but you also raise the hygiene level of the surrounding where the TOTO Carlyle II toilet is installed. Add to Flipboard Magazine.