1 Powerful Flush To Rule Them All – (KOHLER Cimarron Review)
KOHLER Cimarron Toilet – Comfort Height Elongated 1.28 gpf with AquaPiston Technology
KOHLER Cimarron, in particular, the model K-3609 is one best-rated toilet of KOHLER. You either love it or hate it.
At the time of rewriting this post, it has gotten over 80% (of about 220 reviews) users recommend this toilet at Home Depot, and Lowes has about 75% (of about 500 reviews) of users vouch for it. But quite a mix over at Amazon, which it still manages a 4.2 stars rating with over 100 reviews.
So what is the big deal about this toilet that it is consistently getting the praises? Well, at least that's the case on Home Depot and Lowes. And what do users love about it and why it had some users vowed to dump KOHLER and their K-3609-0 Cimarron toilets altogether?
Let's find out in this KOHLER Cimarron review.
Note: This post has been updated to include the entire Cimarron series of two-piece toilets available on Home Depot, Lowes, and Amazon.
KOHLER K-3609-0 Cimarron – Elegant 2-Piece Elongated Toilet
The first impression this KOHLER Cimarron gives is its fine finishes and elegant exterior.
It'll stop you from moving to the next 2-piece toilet exhibit if you are in a plumbing store shopping for toilets. From its shape and proportion right up to the flushing efficiency, it is indeed well-designed for a two-piece toilet.
Apart from its appearance, this KOHLER Cimarron has the trait of a great flushing toilet, and a couple of unique features you won't find in other models.
First, this Cimarron K-3609 offers a patented tank mounting system called DryLock, which makes installing the tank faster and easier. It's a system with no bolt holes in the tank, so the possibility of leakage due to weak coupling or deterioration of fasteners and seal is eliminated.
Instead, a mounting plate which is permanently attached to the tank base is used to secure it to the bowl. You slot two bolts onto the plate, then go through the bolt holes on the bowl top and tighten. That's it. And since there is no direct mechanical contact with the porcelain tank, the risk of breaking the tank due to over tightening is very much reduced.
Another great feature of the Cimarron toilet is the powerful flushing system. Rather than a standard flapper valve, the Cimarron features the AquaPiston canister flush valve, which is engineered for optimum flushing performance. The flapper-less design offers a 360 degrees opening which allows more water to flow through. That means you get a stronger gush from the AquaPiston than the standard flapper valve with the same volume of water.
The Cimarron K-3609-0 is also a WaterSense certified model, which uses only 1.28 gallons of water per flush. That's a 20% savings versus the 1.6-gallon version. If you are replacing an older toilet that uses 3.5 gallons, you can save over 60% of water. That's huge.
So, no matter which Cimarron models you choose, the toilet offers powerful flushing, saves you water, and reduce clogging occurrence.
Reduce clogging occurrence? So it is still not clog-free?
The Cimarron is a siphonic flush toilet. All siphonic toilets are prone to clogging because of its long and narrow trapway (which are typically less than 3 inches in diameter). So it is unrealistic to expect No-Clogs from a siphonic toilet. But the strong flushing of the AquaPiston can help to keep the trapway and drain pipe clear with proper use and maintenance.
Clog Free Toilet Tips
On a heavy session, consider breaking up the flush – once midway through and another at the end.
Don't flush stuff other than urine, feces and toilet paper.
Cut down or eliminate the use of toilet paper (Use a toilet bidet seat).
In short, don't flush more than what the trapway can chew.
---
The AquaPiston Advantage a.k.a. Class Five Flushing System
Imagine a room full of people inside, and the only way people could get out of the room is through a standard hinged door. Then in another room, also full of people, but now the exit is a wide roller shutter door. And assuming both doors are opened at the same time and at the same speed, which door can let out more people faster during an emergency?
Of course, the room with the roller shutter door provides more free space for movements. Therefore, more people could exit at a much faster pace than the room with the hinged door.
The flapper valve is like the hinged door. It opens at an angle so water from behind the flap will have to flow around to the valve opening to exit. Whereas the AquaPiston valve will open upwards, giving a 360 degrees no-obstruction space (even better than the shutter door) for water to flow out.
Naturally, at any given time the AquaPiston valve releases more water into the bowl than the regular flapper valve. Besides, the valve has a generous 3.25″ opening which enhances the flow rate resulting in a strong gush. And a 3:2 ratio venturi-inspired valve fitting serves to consolidate and streamline the flow energy for an even stronger flush.
Key Advantage Of The AquaPiston Valve
Besides offering a significantly powerful flush, the AquaPiston poses these three advantages over the flapper valve.
The AquaPiston canister flush requires a lower actuation force than a flapper. Makes a lot of sense here because you are not pulling something against the pressure of water, like in the case of a flapper.
Since there isn't a rubber flapper, there is no worry of warping due to deterioration of the rubber. And that makes the AquaPiston valve more durable and leak-free.
The canister design boasts a 90% less exposed seal material than a 3-inch flapper that promises a leak-free performance.
And, according to KOHLER's classification, the canister flush valve with a 3.25″ valve opening, is a class five flushing system. All KOHLER Cimarron toilets employ the AquaPiston technology, a patented flush engine, that delivers a fast, powerful, and virtually plug-free flush.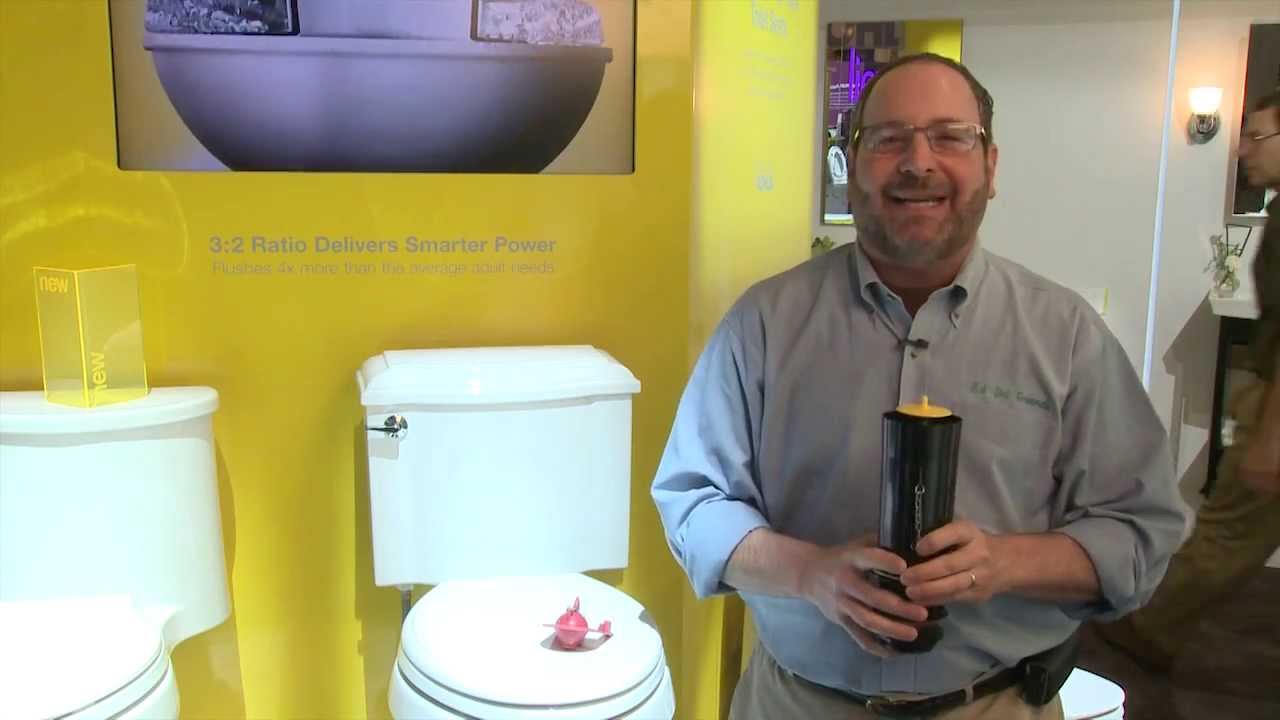 ---
Comfort Height And Other Favorable Features
Comfort Height – It is not just the K-3609 model; all the Cimarron toilets have almost similar bowl features. Regardless of bowl shapes, slight differences in width and length, they spot the same bowl height of 16-1/2 inches. Add on the seat, and it makes the sitting height at around 17-1/2 inches tall which is within the ADA stipulated 17 to 19 inches range.
Rough-in – Except for the skirted version which offers the optional 10 and 14 inches, and the model K-3851 (10″ rough-in), the rough-in is the standard 12 inches for all the other Cimarron models. However, the skirted version comes with a standard 12 -inch rough-in kit for the trapway to flange connection. If you require a 10-inch or 14-inch kit, you can make your request during your purchase.
Water Surface – If you are particular about the water surface size, the Cimarron K-3609 does have a pretty decent 10-1/2″ x 7-7/8″ water spot. And a good 6-3/8″ rim to water surface distance ensures ample clearance between your wiping hand and the dirty water. But not all Cimarron models have a similar water surface size and rim to surface clearance.
See All Cimarron Models Comparison Table or or jump to the Quick Cimarron Facts for the largest and smallest water surface models.
Flush Capacity – This Cimarron K-3609 is a single flush 1.28 GPF capacity, two-piece floor-mount gravity flush toilet. So you have a great flushing toilet that saves you water at the same time. Of course, there's no stopping you to get the 1.6 GPF version if you have heard of some 'inadequacy', and you are not living in any States that only approves 1.28 GPF or less for toilets.
Anti-Condensation – If you are living in a high humidity area, you may experience tank condensation during the hot months. In that case, you should be looking at the Cimarron K-3609-U-0 or K-3609-UR-0 which comes with the Insuliner® (an insulated tank liner). The insulated tank should help arrest the frustrating condensation issue you may have.
Other models with Insuliner®: K-3851-U-0, K-3851-UR-0, K-3887-U-0, and K-3887-UR-0
Tank Cover Lock – In most cases, this feature isn't needed. But to some folks, this is a lifesaver. Especially when you have hyperactive kids in the house, you know what it's like trying to keep things in order and safe. A tank cover can be a safety hazard once broken. The sharp broken porcelain edge can inflict a nasty cut if you are not careful. So look out for the model K-3609-T-0 or K-3609-TR-0 which has provision to lock the tank cover.
Other models with tank cover lock: K-3589-T-0 and K-3589-TR-0
Quick Cimarron Facts
In case you need to know very quickly which Cimarron toilet has the largest water surface or has the widest selections of colors, here are some facts about the Cimarron toilet for your convenience. Or start exploring the entire range now.
There are a total of 9 Cimarron models with 24 variations.
Out of a total of 26 Cimarron toilets, 15 are of the elongated bowl, and 11 are round front bowl.
The Cimarron K-6419-0 touchless flush toilet has the largest water surface of 11-1/2″ x 9-1/4″.
The Cimarron K-5310-0 skirted toilet has the smallest water surface of 9-5/8″ x 6-5/8″.
The smallest rim to water surface clearance of 5-1/4″ goes to the K-3851, K-3887, K-3888, and K-6419 models.
The Cimarron model K-3828-0 has the widest selection of 9 colors – White, Biscuit, Almond, Dune, Ice Grey, Sandbar, Cashmere, Thunder Grey, and Black Black.
Easy Installation For A Handyman or Handywoman
Not everyone has the same motivation to install a toilet like replacing a vanity top sink or landscaping for a better curb appeal. But if you want to save some money and are brave enough to try it, it is not that difficult actually. With countless DIY videos on Youtube and popular home improvement sites such as ThisOldHouse.com, you can sure pick up some helpful tips (to stay clean at least).
This KOHLER K-3609 Cimarron is typical of any toilet installation. If you prepare and organize well for the installation, you will breeze through every step of the way, just like a pro. And the satisfaction you got when the first flush went as expected is simply priceless.
Even if you have chosen the skirted model, which usually is a little challenging even for the pros, the installation video by KOHLER makes it look all so easy. And that's because the skirted version of the Cimarron, the K-5310-0 uses the ReadyLock system, a brilliantly simplified way of installing a skirted toilet. There is no drilling on the floor required, so no template to align, no guesswork whatsoever, and you should be done in a snap. (Watch the ReadyLock system video below)
A Controversial Downside
If you have been reading reviews about this KOHLER Cimarron K-3609-0, you probably have noticed a common complaint people made. And that is, it doesn't rinse (or cleanse) that well. You have to flush a second time to get that waste smears off the bowl surface. But is it true?
Maybe.
You see, bowl rinsing needs water to scrub surfaces either in a swirling manner or rain down from the rim holes. As for the latter, it needs to cover the entire bowl surfaces, so the more holes lined along the rim, the better. In this case, the rim hole method is used (across all KOHLER Cimarron toilets). So the question is, has it got enough holes to cover all the land?
Yes, the Cimarron does have all the rim holes it needs to wet the entire inner bowl surface. So where is the problem then?
A few possibilities to explore here to get to the bottom of this issue.
Too Little Too Weak
Some folks blame it on the flush volume. The Cimarron K-3609 and a few other models have a flush capacity of 1.28 GPF. According to them, there is just not enough water to give a proper rinse since the bulk of it goes to flushing waste off the bowl. So the remaining water that goes to the rim is too little and too weak for any good.
So the solution is to get the 1.6 GPF models?
The KOHLER K-3609 and a few other Cimarron models have a large water surface area of at least 10″ x 8″. With this large surface size, it is easy to have the waste submerge in water. And waste in water is less stubborn on the bowl surface. So aim your dump to avoid streaks on the bowl surface that is above the water, and you will get a clean bowl with every flush..
User Flushing Habits
It's habitual for some users to pull the trip handle and release immediately and expect the flushing to work till the end. This may be the case when the toilet is using the flapper valve. That's because the flapper is held open by the pressure of flowing water and closes as the water pressure weakens.
But the AquaPiston valve is less affected by water pressure and will start to close the moment you release the trip handle. Therefore, a pull-and-release will result in less water being flush into the bowl, let alone having enough for rinsing.
When you need a good rinse, especially on a heavy session, hold the handle for a little longer (for about 2 to 3 seconds). You are likely to see a more thorough flush and rinse the Cimarron can offer.
Lack Of Maintenance Or Poor Quality Control
The problem with rim holes is they might get block after a while by dirt accumulation or possibly mineral deposits. Or when the toilet is new, there is also the possibility that some foreign objects may have found their way into the bowl rim. This quality control issue is rare but not impossible.
And it is not always easy to unblock those little holes with spraying water. So make sure to keep the tank clean at all times if you want to avoid the painstaking chore of unblocking the rim holes later.
Manually clean the tank at least twice a year. And avoid placing any chemical-based cleaners into the tank as it might damage any rubber parts on the fill and flush valve.
If the toilet is new, it is always recommended to check for defects before the installation. Especially inside the bowl rim, waterways, and trapway, they must all be clear of debris and foreign objects. It is easier to access these parts of the bowl when the toilet is not installed.
All Cimarron Models And Features
The powerful AquaPiston flushing system and a tall 16-1/2 inches bowl are the main characteristics of the KOHLER Cimarron toilet. If you need more than what the K-3609 model can offer, there are 8 more models with a total of 24 variations and multiple color choices.
So whether you prefer a round bowl, right-side handle, touchless flush, or a one-piece toilet and more, there is a Cimarron for you. Out of the 9 models, only 2 are of the 1.6 GPF flush capacity. And all the base model will have the trip handle on the left side of the tank.
Here are all the models with their respective variations.
KOHLER Cimarron Toilets Comparison
Models
Features
Variation
All KOHLER Cimarron Toilet Models
Common Features

Comfort Height (16-1/2″ Bowl Height)
AquaPiston Flushing System
Single Flush
*Left-hand polished chrome trip lever
ADA Compliant

*Does not apply to the touchless models.

Terms

Insuliner: Tank liner for minimizing condensation on the tank.
ReadyLock: Quick mounting kit for skirted toilets.


KOHLER Cimarron
Two-Piece Elongated Toilet
Model: K-3609-0


Common Features
Bowl Shape: Elongated
Flush Capacity: 1.28gpf
Water Surface: 10-1/4″ x 8-1/2″
Rim to Water Surface Clearance: 6-3/8″
Rough-in: 12″
WaterSense Certified

K-3609-0 – Base model
K-3609-T-47 – With tank lock
K-3609-U-0 – With Insuliner
K-3609-RA-0 – Right-hand trip lever
*K-3609-TR-0 – With tank lock and right-hand trip lever
*K-3609-UR-0 – With Insuliner and right-hand trip lever

*Check with your nearest KOHLER dealers.


KOHLER Cimarron
Two-Piece Elongated Toilet
Model: K-3589-0


Common Features
Bowl Shape: Elongated
Flush Capacity: 1.6gpf
Water Surface: 10-1/2″ x 7-1/8″
Rim to Water Surface Clearance: 6-1/8″
Rough-in: 12″

*Check with your nearest KOHLER dealers.


KOHLER Cimarron
One-Piece Elongated Toilet
Model: K-3828-0


Common Features
Bowl Shape: Elongated
Flush Capacity: 1.28gpf
Water Surface: 11-3/4″ x 8″
Rim to Water Surface Clearance: 6-1/8″
Rough-in: 12″
WaterSense Certified


KOHLER Cimarron
Two-Piece Round Front Toilet
Model: K-3851-0


Common Features
Bowl Shape: Round Front
Flush Capacity: 1.28gpf
Water Surface: 11″ x 8-3/4″
Rim to Water Surface Clearance: 5-1/4″
Rough-in: 10″
WaterSense Certified

*Check with your nearest KOHLER dealers.


KOHLER Cimarron
Two-Piece Round Front Toilet
Model: K-3887-0


Common Features
Bowl Shape: Round Front
Flush Capacity: 1.28gpf
Water Surface: 11″ x 9-1/4″
Rim to Water Surface Clearance: 5-1/4″
Rough-in: 12″
WaterSense Certified


KOHLER Cimarron
Two-Piece Round Front Toilet
Model: K-3888-0


Common Features
Bowl Shape: Round Front
Flush Capacity: 1.6gpf
Water Surface: 11″ x 8-3/4″
Rim to Water Surface Clearance: 5-1/4″
Rough-in: 12″

*For K-3888-RA-0 and other colors, check with your nearest KOHLER dealers.


KOHLER Cimarron
Two-Piece Skirted Elongated Toilet
Model: K-5310-0


Common Features
Bowl Shape: Elongated
Skirted Trapway
Flush Capacity: 1.28gpf
Water Surface: 9-5/8″ x 6-5/8″
Rim to Water Surface Clearance: 6-3/8″
Rough-in: 12″ (Optional 10″ & 14″ rough-in)
WaterSense Certified
ReadyLock




KOHLER Cimarron Touchless Two-Piece Elongated Toilet


Model: K-6418-0


Common Features
Bowl Shape: Elongated
Touchless Flushing
Flush Capacity: 1.28gpf
Water Surface: 10-1/2″ x 7-7/8″
Rim to Water Surface Clearance: 6-3/8″
Rough-in: 12″
WaterSense Certified

No variations.



KOHLER Cimarron Touchless Two-Piece Round Front Toilet


Model: K-6419-0


Common Features
Bowl Shape: Round Front
Touchless Flushing
Flush Capacity: 1.28gpf
Water Surface: 11-1/2″ x 9-1/4″
Rim to Water Surface Clearance: 5-1/4″
Rough-in: 12″
WaterSense Certified

No variations.
The Skirted Cimarron K-5310-0 – A Quick Review
You may have already seen the ReadyLock quick installation video below, and are looking for more information about the skirted Cimarron K-5310-0. And by now you should have a better idea of the features and variation that are uniquely Cimarron's.
So let's spare you from reading another 20 paragraphs to learn what this Cimarron K-5310 toilet is all about. Instead, here's a quick rundown of the pro features and a little imperfection.
Pros
Ceramic Skirting – No more ugly exposed trapway! Honestly, this enhances the overall look besides saving you the backbreaking chore of cleaning the trapway. Upkeeping has never been easier with the trapway concealed. Give it a few wipes, and the ceramic will shine again like new.
ReadyLock Quick Installation System – This is brilliant! Why didn't anyone think of that? The KOHLER designer deserves a Nobel prize for this simple and time-saving innovation (if there's one for plumbing 😄).
You can also call it a non-destructive mounting because there's no drilling on the floor required. Watch the video below, and you will know why this is huge (if you have seen how other skirted toilets are installed).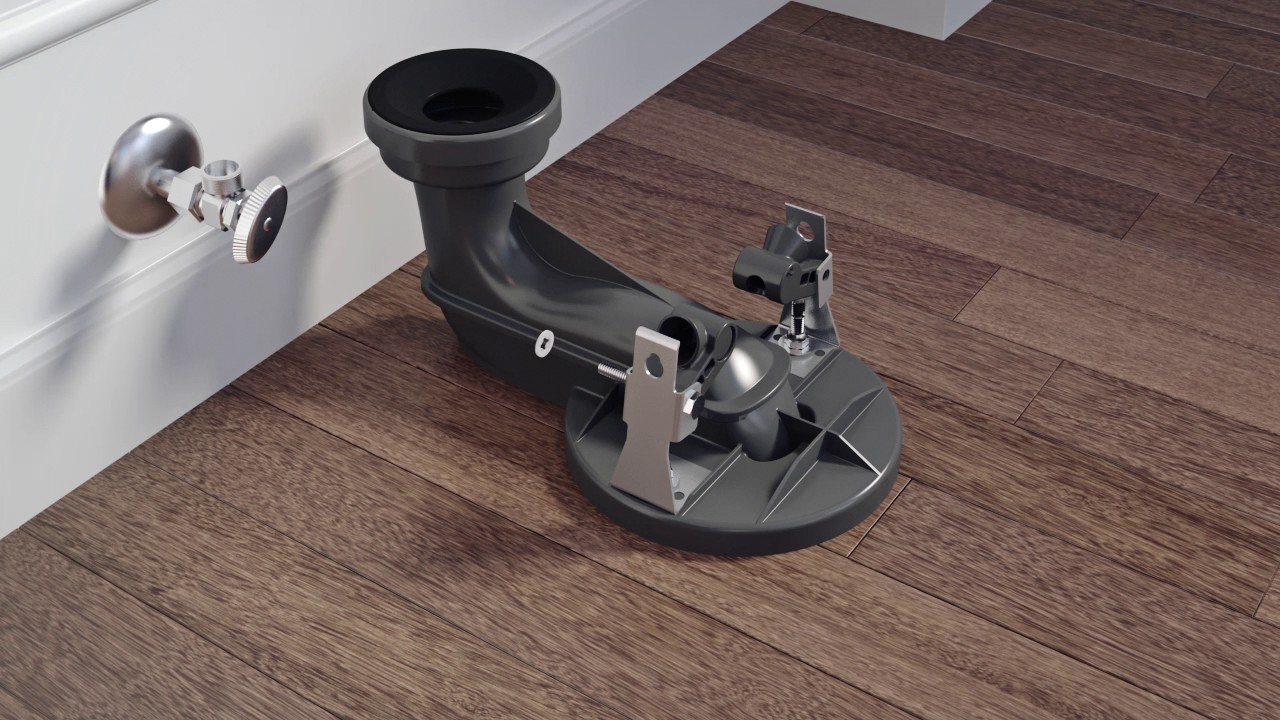 Trapway Options – For the same toilet bowl, you now have all the options of the rough-in. The toilet comes with the standard 12-inch rough-in in the form of a trapway attachment. And you have the choice of 10 and 14-inch rough-in attachment (separate purchase).
This arrangement is excellent when you want to relocate the toilet to a different rough-in. Save you the dilemma of making wallet bleeding decisions. And installation couldn't be any easier.
Seven Color Choices & One Variation – With 7 neutral color options, you don't need a designer to make the right color coordination. The only variation of this Cimarron K-5310 is the Righ-Hand trip lever. The model is K-5310-RA with 3 color choices.
Con
And finally, this KOHLER Cimarron skirted toilet has the smallest water surface among all the other Cimarrons. Though not a pretty dimension, at 9-5/8″ x 6-5/8″ it is still reasonably large to take on a heavy dump session any time. So watch where you drop the kids off at the pool.
Final Thoughts On Why The Cimarron Is Still A Good Toilet To Aquire
Has the rinse argument shaken your decision to get a KOHLER Cimarron toilet?
But here's a fact.
Despite the negativity on the bowl rinse, sales of the Cimarron toilet has not dwindled. And KOHLER has even rolled out the skirted version, which is a good indication that the Cimarron is still a decent toilet to acquire.
The strength lies in the powerful AquaPiston flushing system and a large water surface. Incidents of a clog are very much reduced for that reason. And that's more important than trying to focus on the occasional lackluster rinse that can be easily solved by flushing again.
Or you can improve your dumping technique 😅 to avoid streaking, as waste is less sticky in water than on dry surfaces. And it shouldn't be difficult with such a large water spot which is intended to prevent or reduce waste smear. Besides, that's a great skill to develop😂, which you can apply on any toilet regardless of the water surface size.
Of course, nothing can be done to prevent smearing when you have an explosive session. Not even the KOHLER Cimarron K-6419-0 model with the largest water spot can help. Just be cautious of what you eat and drink.