Is KOHLER C3 230 A Good Bidet Toilet Seat?
A KOHLER C3 230 Bidet Seat Review
It's About Time For A Smart Toilet Seat
But not any bidet seat. If you own a KOHLER flush toilet, it makes sense to change your function-less toilet seat to this KOHLER C3 230 (or K-4108-0) washlet.
The reason is simple. You don't like trial and error, and you want to get things right the first time, every time. Nothing is more befitting than a bidet seat made by the same manufacturer for its line of toilets.
Besides, this KOHLER C3 230 bidet toilet seat has the right functions you need. Nothing more, no less.
But what exactly do you need that only this KOHLER C3 230 bidet can provide? Not even the world-renown TOTO washlet can come close? How about a comparison with the TOTO equal? We will come to that later. (If you can't wait then click here.)
The Benefit Of Using A Bidet Toilet Seat
The main benefit you can reap from a smart toilet seat is the cleaner feel you get versus toilet paper. This benefit is something that the majority of Americans are beginning to accept.
The idea of using a bidet is rather dated with most Americans previously. As they still picture a separate fixture in the bathroom. And with the ever shrinking bathroom size, it's hard to gain traction.
But not anymore.
Thanks to the clever design of the modern day bidet which has become a part of the toilet seat, more and more Americans are buying into the idea of going paperless. As evident from the rising sale of intelligent toilets and electric bidet seats both online and in stores.
But is it true that the bidet really gives you a cleaner clean?
According to a survey by KOHLER, 3 out of 5 Americans think cleaning with water makes them feel cleaner than toilet paper.
This perception is set to grow from strength to strength. It won't be long before the bidet seats become a common sight in American homes.
"Once you try one, you won't be able to live without it."
Shane Allis, marketing director of KOHLER Sanitary Products
So if you are contemplating whether it's a better way to clean, the numbers don't lie. And if you own a KOHLER toilet, this K-4108-0 bidet toilet seat will be a good investment you can consider.
The Cost Of Change
The biggest turn off for the smart toilet seat is the high price tag. This KOHLER K-4108-0 C3 230 bidet seat alone can cost more than the regular gravity flush toilet. That's the way it is for an intelligent toilet seat; they are never cheap.
But it's worth it in the long run. Think of the money you can save from buying toilet papers and the huge hygiene improvement in your home.
At least your hands will never have to go near the area where the Sun don't shine. And the trees you are going to save as well.
Oh, you will appreciate even more when you can't wipe due to, perhaps, hand injury. Or, what about that blister on the ring, some people like to call it Hemorrhoid. These are some weird examples, but it can happen to anyone. Like the optimist would say, the possibilities are endless. 🙂
But hey, you are going to feel fresher and cleaner remember? Isn't that's the reason that drives you to look for one?
Maybe you will feel better when you know more of the benefits this KOHLER C3 230 can provide.
KOHLER C3 230 Bidet Toilet Seat Features
Forget about those trees and toilet papers, who cares anyway. What's important is how this KOHLER C3 230 can benefit you with its features and worth your every dollar.
So let's get on with the key features.
Heated Seat
This feature is ultra important because it has a direct impact on your rear, so it has to be first to mention.
No more cold shocks for your butt when you sit on the toilet during cold weather season. Extremely useful for those who don't pee like a man.
Imagine you need to answer nature's call in the middle of the night with a sleepy head. The cold shock on the butt can kill the sleepiness you need for your continued sleep. So two thumbs up for being a sleep saver.
And there are 6 temperature settings for the seat. So it pretty much allows you to go with the weather in Spring, Summer, Autumn, and Winter. All 4 seasons for your butt. You shouldn't complain.
The Magic Wand
OK, this one is even more important than the heated seat. So, anyway… While the heated seat may save your sleep, you might be awakened by the sensation of the spray. But in a soothing way because you have control over the water temperature.
The oscillating and pulsating spray has a way to treat your butt with its cleaning function. Amidst all the doubts and suspicions about whether this KOHLER C3 230 bidet seat is worth the money, the moment you receive the first spray, you can forgive everything. And you can adjust it to hit the right spot with the remote control for front and rear cleaning.
And the best part, you can pre-set it to remember your target spot. You can imagine yourself as a fighter jet pilot, once the target is locked (set), you only need to hit a button to activate the missle cleaning process every time.
Besides the wand position, you can also select and pre-set the force of water spraying out from the wand. You have 5 settings to choose from on the remote control. So choose one according to your mood swing liking.
That's a damned good question Boromir.
UV Wand Disinfection
You see, the whole idea of a smart washlet is to eliminate any contact with the dirty stuff as much as possible. Then you can attain the highest level of hygiene. And the wand is the one that does all the dirty work for you; it has to stay clean all the time. But don't worry, you are not going to clean or sanitize the wand yourself.
So how did the wand gets sanitized and what material is used to make it?
The wand is disinfected automatically with UV-light on a daily basis. And like all medical devices, it is made of stainless steel. It will always stay clean to provide your turd cutter with clean, hygienic water. So, if that's your concern about using an automatic washlet, no worries it's safe and clean.
Full List Of Features
There are more features on this KOHLER C3 230 than what is discussed above. And you can easily understand what they are by reading the description. So let's spare you another ten paragraphs by not going into every single one of them.
Here's the full list of features of this KOHLER C3 230 intelligent toilet seat.
| Features | Remarks |
| --- | --- |
| Touchscreen Remote Control | 2 programmable user presets |
| Front and rear wash modes | 🙂 |
| Choose oscillating or pulsating spray | More than one way to clean your *beep* |
| Continuously heated water with adjustable temperature settings | You get warm water anytime. No waiting. |
| Heated seat with adjustable temperature settings | 6 selectable temperature settings |
| Quick-Release™ seat design | For ease of cleaning |
| Stainless steel wand with UV-light self-sanitization | 🙂 |
| Quiet-Close™ seat | Prevents seat from slamming |
| Automatic deodorization with carbon filter | Odor control. Keeps the toilet smelling fresh always. |
| Automatic nightlight | Shows you where the toilet is? |
| Anti-microbial materials | Used in seat and nozzle |
| Warm-air drying system with adjustable air speed and temperature | Dries your butt with your preferred air power and temperature |
| Grip-Tight bumpers | Keep the seat in position. Your butt can move but the seat won't. |
| Ergonomically designed for comfortable seating | 🙂 |
Some Users Really Hate This One Feature
Here's where you get a reality check on this KOHLER Smart bidet seat. You are either cool with all the features, even though this particular one needs improvement. Or, just like some users, you will scream at first light.
What is it really?
The blue night light.
The night light blinks like a strobe light in the middle of the night. Some users complained that it is so bright, it's blinding. If you are a light sleeper and so used to pitch dark at bedtime, this is an issue when you leave the bathroom door open.
According to KOHLER, the blinking only occurs when the UV-light is sanitizing the wand. And it will last for several hours. During which, you can't use the seat or lift up the lid.
But why set it to clean at this late hour? Can't it be set to operate during the day like mid-afternoon? And is it necessary to have blinking light while sanitization is in process? Can you stop the blinking light?
Yes, you can stop the blinking light but at the expense of the wand not fully sanitize.
The other imperfection is the owner's manual. It could have been a lot clearer on how to operate some of the features. But this is much less of a problem than the night light issue.
So, can you accept the blinking night light? Most users seem to have no problem with it as evident from all the reviews. Otherwise, it won't achieve the 4 stars rating in Amazon and Home Depot. Why not see for yourself and have a feel of the reviews on Amazon.
Installation Is Easy Except…
Don't call your plumber over because the installation is so easy you can do the installation yourself. If you have installed or replaced a toilet seat before, you should be able to set it all up in minutes.
But if you don't have a power outlet around the toilet, then you will need one within reach of the bidet power cord. And make sure you get a qualified electrician to install a power outlet with Class A Ground-Fault Circuit-Interrupter (GFCI) (See image right).
Do not attempt to install the power receptacle yourself unless you know what you are doing. Safety should always be your top priority. No compromise, please.
Here's an installation video by KOHLER.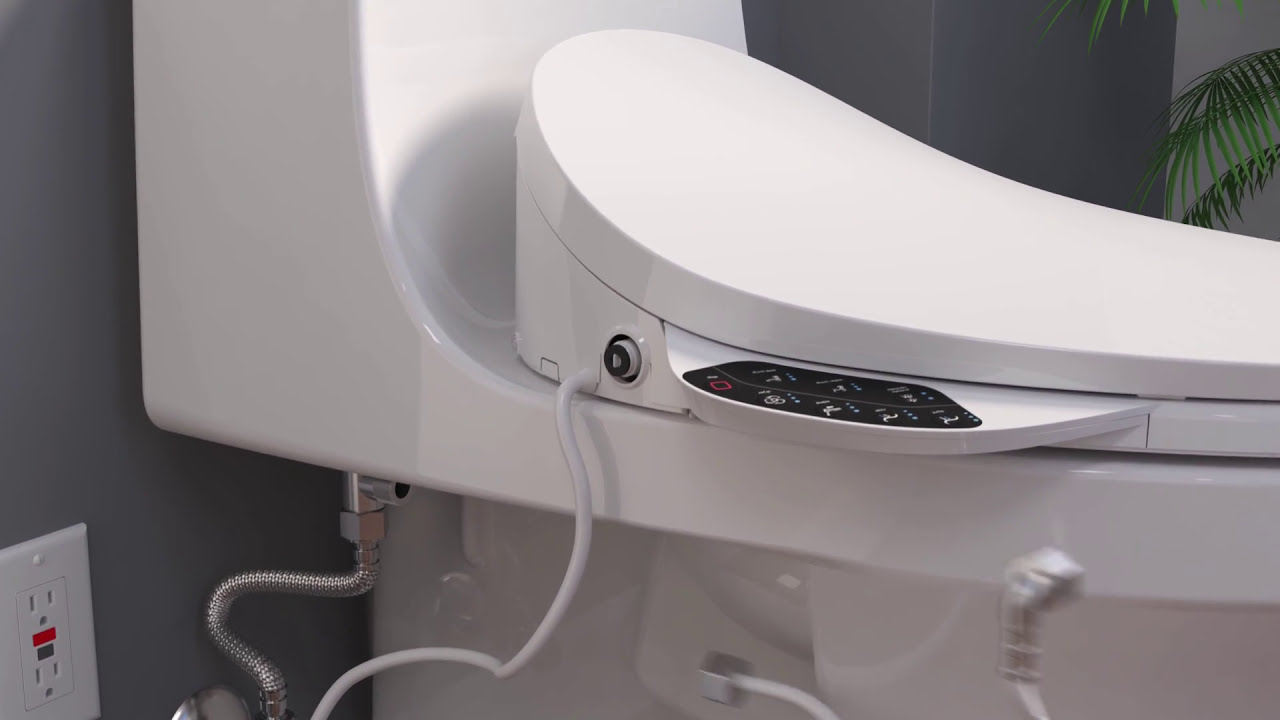 Which KOHLER Toilet Model Is Suitable For C3 230 Bidet Seat?
Now, before you decide to go for this KOHLER K-4108-0 smart toilet seat, you need to check if your KOHLER toilet is a good fit. Not all KOHLER toilets are suitable to install this C3 230 washlet.
You can check the Toilet Compatibility Table below for suitable toilet models that can be fitted with this KOHLER C3 230 bidet seat.
So your KOHLER toilet is not suitable for this C2 230 washlet seat? Then you must be having either one of these toilets – Persuade, Saile, and Santa Rosa. Unfortunately, KOHLER does not have a bidet seat for the Persuade and Saile toilets. You may have to look for other makes which hopefully have one that fits your Saile or Persuade toilet. But if your toilet is a Santa Rosa, then the closest washlet model with almost similar features is the C3 200 bidet seat.
But what if your toilet is not a KOHLER?
Toilet Bowl Dimension
If you want this KOHLER C3 230 washlet on your existing toilet which is not a KOHLER, then you got to check your toilet bowl dimension. You need to make sure it is suitable for this KOHLER C3 230 bidet seat.
The important dimensions (see image below) are highlighted.
Pay attention to the clearance gap of 1-3/8″ between the back of the bidet seat and the front of the tank. Make sure it is a flat surface and not a curve. Or else the seat will not sit properly. After the minimum 1-3/8″ clearance you can have all the curve you want.
The length is from the center of the mounting hole to the tip of the toilet bowl. As long as it goes between 18-1/4″ and 19-1/4″ the seat will fit.
Then the width of anything between 15″ to 15-3/8″ you are good to go. And of course, the mounting hole distance of 5-1/2″ is rather standard with most toilets.
IMPORTANT
This KOHLER C3 230 washlet seat with bidet functionality is only suitable for elongated bowl only.
KOHLER C3 230 Versus TOTO S300E
Time to face the competition.
Can KOHLER C3 230 hold up to the mighty TOTO S300E?
In fact, this S300E is not the ultimate Washlet model TOTO has in its line of bidet seats. It would be unfair to compare it with the S350E for one simple reason; the KOHLER C3 230 doesn't have the Auto Open/Close lid.
Nevertheless, let's compare the features of both models and see for yourself who is the winner.
Comparing Features Of KOHLER C3 230 And TOTO S300E
Features
KOHLER C3 230
TOTO S300E
Bowl Shape
Elongated Only
Elongated & Round Front
Touch Screen Remote Control
Yes
Yes
Water Heating System For
Continuous Warm Water
Yes
Yes
Heated Water With
Adjustable Temperature Settings
Yes
Yes
Heated Seat With
Adjustable Temperature Settings
Yes
Yes
Quick-Release Seat
For Ease Of Cleaning
Yes
Yes
Automatic Air Deodorizer
Yes
Yes
Automatic Nightlight Function
Yes
No
Warm Air Drying With
Variable Temperature Settings
Yes
Yes
Front And Rear Wash Modes
Yes
Yes
Oscillating And Pulsating Spray
Yes
Yes
Self-Sanitizing Wand
Yes (UV-Light)
Yes (eWater+)
Deodorizing filter for odor control
Yes
Yes
Programmable Settings For Two User
Yes
Yes
Pre-Wetting Of Bowl Surface
No
Yes
Price
Pretty close right? Almost neck to neck on the features of both bidet seats. Except that TOTO S300E doesn't have the nighlight feature. Or maybe that's what you want after seeing that the nightlight function of this KOHLER C3 230 washlet can be an issue for you.
But what is more important is the compatibility of your existing toilet with whichever washlet you prefer. The safer bet is always to go with the same manufacturer's product; you get streamline support for everything.
If you need to know more about how this KOHLER washlet can fit onto your other make toilet, the best is to consult the toilet manufacturer directly. You will not get an answer from KOHLER unless yours is a KOHLER toilet.
Finally, is KOHLER C3 230 a better washlet?
Yes, if you own a KOHLER toilet and is compatible with this C3 230 washlet. Besides the night light issue which only a few users complained about, it is a well-built toilet seat with bidet functionality.
So look no further, KOHLER (toilet) owners. It's a worthy investment that will make you feel fresh and clean every time. You will love it.